Dichroic Wrapped G-Spot
Dichroic Wrapped G-Spot is available to buy here
The Hype
From Phallix Glass, this glass dildo is designed to reach the "pleasure zone". The curved shaft style gets to those "hard to reach places". The gracefully arcing shaft and raised spiral bands provide enhanced stimulation. The rounded head is dimpled at the very tip and has two smooth creases defining the glans penis, for an extra touch of stylized realism.
What I Like
This glass dildo is GORGEOUS…an absolute work of art! The detail in the head of the penis is rather life-like, there's even a urethral opening. I can tell that a lot of work went into creating this dildo. But that's not all this dildo has to offer in its striking beauty. The clear Pyrex shaft is wrapped with a multi-colored iridescent spiral strip, bordered with a navy blue pin stripe for the entire length of the shaft. It's just beautiful when you put it under the lights. My picture here probably won't do it justice, but take my word…Gorgeous, gorgeous, gorgeous. Okay that's three words…moving on.
This dildo weighs just under a pound, so it will feel like you're being f*cked by something substantial. This is no wimpy $29.99 glass dildo, no way. When I took it out of the pouch, upon receiving it, I couldn't wait to use it. That was the only thing on my mind the rest of the day. With this dildo having such a weight, you can really feel it inside you, unlike other dildos that sometimes feel as though they vanish once they get inside you. And the curved shaft allowed me to hit me to work my g-spot. Having a hard weighty toy like this is perfect for g-spot stimulation because it won't bend or buckle before you get to that special spot. So that was awesome!
The length was desirable as well because I was able to get that deep penetration that I also really desire from a dildo. Sometimes the deep thrusting during sex is uncomfortable, but with a dildo like this, I have full control of the speed and depth, so it's ultimately more enjoyable. A plus there as well.
So the moment of penetration was upon me. I lubed myself and the glass dildo up and went for it. I must say that this dildo really filled me up. It's definitely thick…really thick. In fact initially, I wasn't quite ready for the girth of this penis. Once I got it in though and started f*cking myself with it, I thought the spiral wrap around the shaft felt just delightful on the opening of my vagina. The spiral wrap actually creates ribs. They make the shaft about a 1/4" thicker…very nice!
This glass dildo had no sharp edges, everything has been well finished. So my entire playtime with this item was extremely smooth. Since it's made of glass, I needed very little lube. The lube I did use lasted me quite a long time because glass is a non-porous material, so it's not going to absorb the lube. Plus, I stayed very excited the whole time, producing enough of my own natural lube.
What I Don't Like
I love a thick dildo…I know that men can only be so thick and that's fine, but when I can choose a toy, I usually look for something thick. After using this toy, I realize now, that I like a medium to thick toy. The head of this dildo at its base, I'm not kidding, is 1.5" wide. If you were to take a tape measure, one of those sewing tape measures or the paper ones you find in IKEA or make one out of paper yourself…Find the 5 5/8" mark, which is the first long line after the 5 ½" mark. Then take the starting end of the tape measure and make a circle with it so that end touches that 5 5/8" mark, you'll see how thick the base of the head is. It may not seem like that much, but it is a lot to take in.
I have learned that this toy can only come into play after I'm already well aroused, otherwise, I can't get in. Plus, once I have an orgasm, everything gets very tight down there and found that I had to kind of push on it with my muscles down there to get it out. If you're a woman that gets really big and open when you get aroused, you probably won't experience this dilemma. I have to incorporate other toys, I have thin glass dildos that I'm able to use to get myself warmed up enough. You can see those reviews below. Other than the extremely large head, I didn't have any other problems with this item.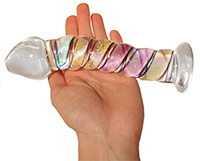 Cleaning Bit
Since this dildo is made of glass, this toy is extremely easy to clean and disinfect. Just cleaning with warm water and soap is enough because as I said above, glass is non-porous, so it's not going to hold onto germs and bacteria like other toys will. So you can wash it with soap and water, use a toy cleanser like Safe Suds, use an antibacterial wipe or cleansing wipe like Cum Kleen Wipes. You can stick it in the top rack of your dishwasher to really disinfect it. You have a variety of choices there and all are very easy to do.
A Very Cool Bit
Depending on where you store these toys, they can be very cold to use on your warm body. The neat thing about this glass toy is that it warms up to body temperature very quickly. But even if you don't want to wait, you can run it under warm water to warm it up. It holds the temperature. It's the same for cold, if you want to experiment with cold penetration, run it under cold water or put it in the refrigerator for a couple of minutes. Just don't put it from hot to cold or cold to hot right away.
My favorite position to use it in
With the thickness of the toy and curved shaft for g-spot stimulation, I like to use this glass dildo when I'm lying down with my head on a few pillows. Keeping my legs in the diamond position, meaning if spread my legs and then bend my knees so that my feet are touching each other, this opens me up nicely to take in such a big toy. As long as I insert it with the curved shaft facing up towards my belly, it will hit my g-spot. Yummy…yummy.
Overall Thoughts
I like this toy! It's visually striking, between the iridescent swirls and the detailed head, I want to put it on display. The weight of just below 1lb. is awesome. I can really feel this dildo inside me and it feels like I'm being f**ked by something substantial. The iridescent swirls around the shaft feel just delightful on the opening of my vagina as I thrust myself with it. Everything is extremely smooth and slick, using very little lubrication. The only thing I have to keep in mind with this toy is that the head of it is very thick. I can't penetrate myself with it if I'm not aroused enough. So you may want to keep that in mind as well. It's easy to clean. It's fun to use, you can easily warm it up to body temperature or cool it down to play with that as well. At just under $200, this dildo is not cheap by any means, but it's a well made, high quality dildo that will definitely last you a lifetime…so it's well worth it.
Length: 7" long
Thickness of the Head of the Dildo: At it's thickest point, it measures 1 ½" wide which is about as thick as a golf ball. To give you a few more details… If you were to take a tape measure, one of those sewing tape measures or the paper ones you find in IKEA or make one out of paper yourself… Find the 5 5/8" mark, which is the first long line after the 5 ½" mark. Then take the starting end of the tape measure and make a circle with it so that end touches that 5 5/8" mark, you'll see how thick the base of the head is.
Thickness of the Shaft of the Dildo: With the ribs, it's about 1 ½" wide. Flared Base on bottom measures 1 ¾" wide.
Weight: 13.6 oz. which is about 3 oz. less than 1lb.
Extras: A really cushiony and very protective, velvet pouch
Where It's Available: