Hitachi Magic Wand
Hitachi Magic Wand is available to buy here
UPDATE 1-30-12: 12 years later this is still one of my absolute two favorite vibrators to use. I keep it plugged into an extension cord next to my bed. I even travel with it! The best part, I still have the original Hitachi Magic Wand that I bought oh so many years ago. It lasts folks, it lasts.
What's the Hype
The Hitachi Magic Wand used to be known as the "Cadillac of Vibrators", that was, when Cadillacs were THE luxury car to have. Yes, this wand is touted as the best for many many years. At one point, oh those many years ago, the only U.S. distributor stopped carrying the Wand and women went mad to find this damn vibe. When a new U.S. distributor took over the sales, they went like hot cakes. It was like the drought was over. I've also heard that the Magic Wand has made women multi-orgasmic. This must be the biggest hype of a vibrator that I've ever seen.
Intended Use
Well, according to the marketing, it's an innocent therapeutic body massager. Ladies, straddle that puppy and ride it till you can't take no more! If you have a g spotter attachment, then just vioate yourself cause it feels sooooooooo good!
The Best Parts
I need some serious power from a vibrator this one delivers 120 Volts of wonderfully-I-just-want-to-have-orgasm-after-orgasm-all-day-long power. My clitty can't get enough of it. Unlike most sex toys, the magic wand comes from "Hitachi" a major corporation, so it comes with a one year warranty. You can use it for 30 minutes or longer without it overheating, although I've never gotten past 1 minute 30 seconds. It looks like an innocent body massager, so you can keep it out by your bed all the time, ready to go and no one will suspect anything.The foam head is softer and not as hard as most other electrical massagers that I've tried. And it felt like the head actually warmed up to my body temperature, not like the others that just felt cold and hard.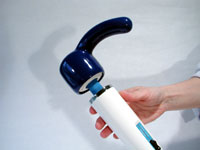 I thought that holding it up against my clit felt good, until I attached the G-Spotter. Holy Crap!!! I never felt anything so good. I got the wonderful feeling of penetration, g spot stimulation all while i was holding the the wand up against my clit. With the way the g-spotter is designed, once you penetrate yourself with it, the soft foam head still lays against your clit. I'm getting excited just describing it!
Useless Parts
The high setting. I have never in all 5 years that I've owned my hitachi magic wand vibrator, used it on it's high setting. It's just too powerful. I don't know of many other women who've used it on the high setting either.
Annoying Parts
The fact that it is an electrical vibrator makes it so powerfully divine, but if you don't have an outlet nearby, you're out of luck. Make sure you keep an extension cord handy. And since it's a plug-in you can't use it outside or in your car either. (Aww, my picnic will never be the same)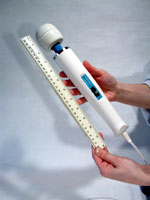 Overall Thoughts of Hitachi Magic Wand
Most people, and I thought the same, don't think this vibrator is going to be a good sex toy because it doesn't look sexual. BOY WAS I WRONG!!! The hitachi magic wand is my absolute favorite vibrator. Even though it's not portable, I take it everywhere I go. And now there's attachments for it so it now becomes a penetrative vibe. This vibrator is great if you want a quickie on your own. Even though it's big, using it during sex with my boyfriend wasn't a problem. When my boyfriend's on top, I hold it on my clitty. I like to have sex doggie style, and the hitachi magic wand is perfect for that. I have the ability to hold the wand against my clitty and my boyfriend never comes in contact with it, although he says he can feel the vibrations in my pussy, which is pretty sweet. So, don't let the size fool you, you can use the magic wand in a variety of sex positions. I have tried other electrical body massagers and the hitachi magic wand is clearly high quality product. And now that it has attachments like the g-spotter, it's the perfect sex toy for me!
Size: Wand is 12″ long.
Power Supply: 110-120 Volts (it's a plug-in)
Time to Orgasm:45 seconds, holding it right on the clitty
Water Friendly? Uh, no…..It's electrical
Separate G Spotter Attachment: Fits on the soft foam head.
Where It's Available: