A Real Swinger's Orgy – Private
A Real Swinger's Orgy – Private is available to buy here or Watch Online
My husband and I attend swinger events
So I'm familiar with what can and does happen at these types of events. When Private Media offered to send me this DVD which was touted as featuring "…footage from a real swinger's party that took place in San Francisco with 80 amateur swingers and 20 porn stars …" my interest was totally peaked. Could a major studio depict what really happens at a swinger event with 20 porn stars present and in all honesty, would it result in a hot porn movie?
Starts out slow
This 1 hour and 50 minute feature starts out a bit slow. Basically we're seeing the main character Peter, who I later learned is really the Founder of Kink.com, jumping on an opportunity to film a swinger party for a major movie company. He has not pre-planned this event, until he gets the go-ahead and has to rush to get it all together, venue and guest list, within a small period of time. Obviously, the Founder of Kink.com can easily do this, but this is part documentary, part fantasy, so he takes on the role of the high strung, nervous event planner rushing to get it all together.
A dollop of sex comes about 10 minutes in
Peter calls this average looking couple, inviting them to the event. Luckily they're already naked in bed when they get the call, so they can get a little naughty with each other while they discuss the possibilities that the night will bring. You get a little oral action from them both.
Next sex scene's a bit awkward
The camera man really wants to be sexually active in this flick, even though Peter needs his skills on camera. Peter sets up a 5 minute audition with Sarah Shevon, one of the "professionals" invited to the party. She gives him some oral to see if he can get it up and keep it up with an audience. I won't tell you what happens because that's part of the story. ;)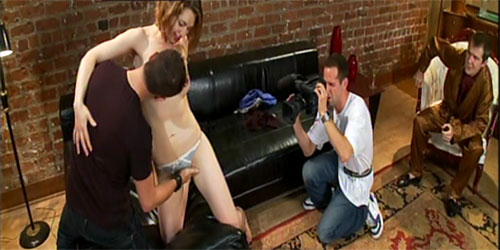 21 minutes in you get a full sex scene
The 2 "professionals" that are brought in to show what they can do, get on for Peter so he can see how they're going to get the sex started at the party. They appear to be strangers and don't know each other well, so it's a bit of awkward start, but they warm up to each other nicely. It's a full 10 minute sex scene, complete with some anal sex tossed in as well. She has a reverse cowgirl technique that was quite impressive.
Finally it's the night of the party.
The venue is well decorated and has a great ambiance. The piano playing is seems a bit pretentious, but people are dressed more formally for the event, some even wearing masks, so it fits the scene. The 20 porn stars are introduced to the guests in front of the room as they drop they're robes to the floor and the naughty part of the party begins.
Now you're into the heart of the movie.
You're basically the voyeur of this event which has the feel of a real party. Some people are standing around drinking and getting to know each other, while others are breaking away to have sex and still others gathering around those having sex to watch the action. It's from this point on that you've got about an hour of lots of uninterrupted sex. Even though it takes about 40 minutes to get to the hot sex that happens at the party, the hour of sex that you get to watch for the most part is hot and if you're not seeing it, you're hearing it.
Most of the people having sex on camera are porn stars.
They don't look all porn starred up though and that's a good thing here. They have this more average appearance to them. They're attractive, but for example, the women aren't all silicone up with huge fake lashes and the like. Porn star Mark Davis finds himself in a lot of scenes and while he's attractive, he doesn't appear to be the most fit of men. While most of the guys are attractive, it's not like they're all are Adonises, but don't worry, there aren't any trolls either. All of this helped to make the party seem real.
Was the sex all about the porn movie angles?
Sure, it's hot at times to get that close up of sex, but many times that causes the actors to have sex for the camera and it doesn't always look real. Real is what this movie is touting so did they screw it up with camera angles? No they didn't. There are some close-ups, but it really appears that everyone, porn stars and amateurs are just having enjoyable sex. You can't always see the cock thrusting in and out of the vagina, but you can see the chemistry and the enjoyment of all players. There's no griffin tongue in this movie. If someone licking vag, they're really doing it to give pleasure and the look and moans on the ladies faces looked and felt like genuine pleasure. IT WAS HOT!
Some notable moments of hotness
Annie Cruz gives the camera guy a bj while he films her. She plays well for the camera. It's a really hot POV scene that doesn't go on long enough. It feels as though she's looking you right in the eye as she takes him deeply in her mouth. I'm not a guy and I felt as though I could feel her, intense and enthusiastic!
Sindee Jennings is getting so worked up by being fucked mercilessly by this hot guy that she starts biting his arm. She squirts with another guy later on too.
Annie Cruz looked like she was really getting off on being fucked on the couch. The look on her face was hot and I swear I could point out the moment of orgasm. Women reaching orgasm, a real orgasm, gets me all worked up.
I thought Catrina Cummings eyes were going to roll in the back of her head while she getting oral. There was no over-the-top, porn star moaning. She was quietly breathing heavy as she glanced down to watch the action and then become overwhelmed by the pleasure and would close her eyes and take it in. Genuine pleasure and enjoyment is a real turn on.
Towards the end of the movie, Annie Cruz and, I think, Cherry Torn get crazy with each other. Between the aggressive make out sessions, oral and finger fucking, my panties were soaked. Would have loved to see more of them together, unfortunately their scene got edited up and we missed out on a lot of the action, but what I saw was incredibly hot.
The only weak link
While Sarah Shevon gave a pretty good scene in the beginning of the movie, I didn't find her to be that exciting the few times I saw her having sex throughout the party. It seemed like she was going through the motions and she wasn't genuinely enjoying herself.
Mark Davis is one kinky bastard
I learned this from the last flick I saw him in, Expert Guide to Rough Sex. He's got the whole dominant man persona worked out. Whatever scene he's in and whoever he's having sex with, he's the boss. He's not afraid to make requests, push boundaries and stretch limits with people. He's a true pro. He tells this one woman that's going down on him that he's going to cum in 10 seconds. He actually counts it down and cums in 10 seconds!
Real Swingers Orgy feels real to me
Even though this movie has a slow start, once the party starts the sex is plentiful and it's hot. Most importantly, the sex looks and feels real. It doesn't feel like camera men or directors instructing porn stars to get into certain positions for the best camera angle, ruining any ability to really pleasure their playmate. It feels like everyone just did what they wanted with who they wanted. The event felt real, I had to do research to find out who was a porn star and who wasn't, another plus for a movie that's touting to feature a real inside look.
The women on women action in this movie looked real, making it even hotter. You can easily spot the lesbian for pay actress because she's afraid to get too into her work and there weren't any of those here. So those moments and scenes added to the hotness factor.
It's a great movie to watch to get you in the mood for sex. Once the party starts, you or you and your partner/playmates can have sex with the group for about an hour, a long sex scene to get off on.
I like A Real Swinger's Orgy because it claims to be an inside look at a swinger's party and it stays true to what one could be like. Plus the sex is really hot and appears to be genuinely enjoyed by all.
Vital Stats:
Studio: Private Independent
Starring: Mark Davis, John Strong, Mr. Pete, Annie Cruz, Derrick Pierce,Sindee Jennings,Princess Donna, Cherry Torn, Bella Rossi, Catrina Cummings, Danger Girl, Lilla Katt, Trina Cox, Curt Wooster, Dean Strong, Ed Vincent, Maestro, Peter Acworth, Riker
Run Time: Approx. 1 hour 55 minutes
Extras: Trailers, Bonus Scene
Where It's Available: