InTERActive – Tera Patrick
InTERActive – Tera Patrick is available to buy here or Watch Online
The Hype
From back of box… "Your wildest dream has come true! Tera Patrick is your next door neighbor and she wants YOU to come over and play. Lick her, strip her, fuck her, have her wash your car – Make all your Tera fantasies a reality.  Tera always says yes when you control the action!"
From AVN.com… "…Teravision and Hustler Video take the interactive video genre a step beyond where it's been so far, combining interactive sex with a story line. In addition to giving the guy with the remote options for sex positions, it lets him dictate plot developments in the story of a neglected mobster's wife."
Initial Thoughts
When I received this item, I wasn't too excited about watching it. In fact, I just tossed it aside because I'm really not into interactive adult movies. I prefer to put my porn in and let it go. I keep the remote handy in case it sucks and I need to fast forward through the boring/lame scenes. So honestly there was no rush to watch InTERActive. However, I started to do some research on it and found out that it was more than just pick-a-sex-position…it's a choose-your-own-adventure with plot and sex. That sounded different, interesting and fun so I bumped it up to next review and here we are.
What You're In For
A lot of sex! There's so much to choose from and the movie is a little different each time you make different choices. Here are some sex scene option highlights:
Tera giving you a hand job out by the pool…you choose two hands or one hand and when you get to cum
Tera and Jessica Jaymes giving you a blow job…you choose who gives it to you, Tera, Jessica or both and when you get to cum
Tera gets a Sybian…you control the speed of vibrations for her and when she gets to cum
Hillary Scott Scene…you choose what position you want to anally fuck her in…when she cums and when you cum
You fuck Tera…You choose what position you'd like to fuck her in…when she cums and when you cum
Those are just a few of your many sexual choices!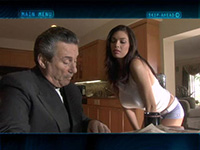 Then you also control the direction the story goes in. In the beginning, Tera has problems with the hose she's using to wash her car. You can choose to help her with that or continue watching a very sexy car washing. You choose which bikini you'd like Tera to wear. You get to choose whether Jessica Jaymes can stay and play with you and Tera. Each decision causes the story to go in different directions. I don't want to tell you what choices cause what, I'm not a spoiler, but you do have lots of options.
What I Liked
I'm not the most technologically savvy person, but one of the pluses of InTERActive is that it's very easy to operate the interactive functions with a couple clicks of the remote. Using your arrow keys, angle key and select button, you can navigate your way through this DVD.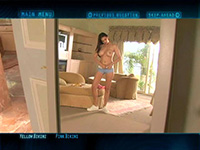 The interactive menu is unobtrusive to the watching and enjoyment of the movie. InTERActive is shown in letterbox form with the interactive menu located within the black strips at the top and bottom of the screen. The letters are a light neon blue color. It doesn't have the look or feel of a video game; it all just sits discreetly on the screen. Once Tera asks you a question, an aqua, water looking screen appears and asks you to choose what you want to do. It all works rather smoothly. Once you make your selection, you're moved quickly to your selection.
The sex scenes are pretty hot. Each of them is plenty long enough to get yourself hot and bothered. You then have plenty of time to tease yourself and even take your time getting yourself off. The viewer is in complete control of when the scene ends.
I thought the multi-angle function was going to be a pain and a distraction from my enjoyment, but it was so easy, it caused no problems at all. The sex scenes are long enough that when you get your fill of one angle, you can easily switch it over. One angle is from a first person point of view and the other is more the traditional angle that an adult movie is filmed at. Transitioning from one to the other is also smooth and easy.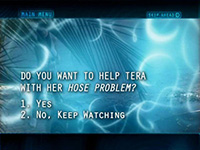 I love the fact that when you're given a choice to make and you pick a route, you're not stuck with that direction only. For instance, you have an opportunity to decide who's going to suck your cock…Tera Patrick, Jessica Jaymes or both. I chose both. But as I was watching, the other options are sitting on the bottom of the screen and you can choose any other option at any time. My curiosity wouldn't just allow me to stick to one choice.
The settings are beautiful. The house and grounds are gorgeous and the overall coloring of things in the movie are very pleasing to the eye…nothing feels out of place or like it shouldn't be there.
There's tons of stuff to watch. Even though I was switching back and forth between options and angles, I could still start over and have a totally different experience. Lots of long, hot sex scenes…too many to cover in one day, so the viewer is getting A LOT for their hard earned dollars.
What I Didn't Like
I thought it was awesome that you could pick when the women cum. It's still not that often that you see real orgasms from women in porn, so I thought this might be a great opportunity. I was a little disappointed when some of the women's orgasms didn't feel genuine. Although Tera's looked pretty genuine during the Sybian scene.
There were moments, very few, where the audio fell out of sync. It only lasted a few seconds. If I remember correctly it happened only after making a selection…and that was only a fewof the times that I did.
Who is InTERActive geared towards?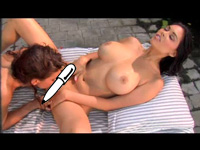 I would think this is a guy's flick. I wouldn't think lots of women would enjoy this movie. However, I did. To my surprise, I had a lot of fun with all the interactive features and being able to control the storyline. Tera Patrick fans will love, love, love this DVD. There's so much Tera on here it's almost ridiculous. So if you're a Tera fan, man or women, you should add this to your collection.
Hottest Scenes
Hillary Scott's anal sex scene. She plays the role of the naughty school girl down the street. She's wearing glasses during the scene, but then the guy, well you, are going to cum on her face and she says something like…I have to take my glasses off or my mom will kill me… Classic!
Tera and Jessica Jaymes' oral scene was pretty hot…although Jessica giving Tera oral was the hotter of the two for me. Jessica really gets into it as the giver with lots of licking, sucking and finger fucking.
I even thought the food scene with Tera and Hillary was sexy. The way they were sharing a strawberry and smearing chocolate sauce over each other, it made my kitty tingle.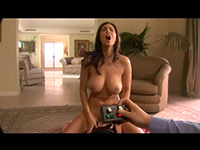 On Disc 2 in the Extras, there's a 20 minute scene from Anal Extremes starring Hillary Scott in a foursome with three other guys. This scene gets incredibly hot! Especially when two guys stand facing each other holding Hillary. One has his cock in her vagina and the other has his cock in her ass and she's bouncing up down on both of them. Wow, that was quite a treat! I need to see that movie now.
Funny Bit
Sammy Liguori, not a porn star, plays Tera Patrick's cranky, mobster husband. He's a Robert DeNiro impersonator and he's wonderful. His mannerisms, accent…everything is great. He's very amusing; I got a kick out of his scenes.
Extras
InTERActive comes with a lot of extras…a whole DVD for them on Disc 2.
Behind the Scenes
Features about 5 minutes of outtakes, an 8 minute interview with Tera Patrick, a 2 minute interview with Jessica Jaymes and a 4 minute interview with Hillary Scott and Sammy Liguori separately.  Sammy's is pretty funny, he's quite a character.
A non-interactive version
Allows you to just sit back and watch without any control. You go where they take you.
Silent Movie
The movie is summed up and shortened into a 7 minute silent movie version…done in the old silent movie style. I enjoyed that a lot…made me laugh out loud at times.
Tera Solo Scene
Taken from another movie or filming session entirely, this approximately 7 minute solo scene features Tera doing a strip tease into a masturbation session. She gets both fingers and glass dildo involved in this…it's pretty hot.
Tera Photoshoot
A live taping of a photo shoot…it's interesting. The background has lots of smoke and roaring fireplaces…cool!
Hillary Scott Bonus Scene
20 minute clip from Anal Extremes…a foursome of Hillary with 3 guys. It's one of the hottest scenes on the DVD.
Jessica Jaymes Bonus Scene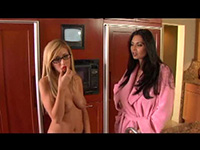 15 minute clip from Jessica Jet Set…a hetero sex scene…blow job, intercourse in various positions.
You'll also find a slide show, trailers of Teravision and Hustler movies, Virtual Tera Patrick commercial, phone sex commericial, commercial for Hustler Store in Hollywood. That about wraps up all the juicy bits that you receive in this package.
Overall Thoughts
InTERActive is definitely a pioneer in adding new and more control to the interactive adult movie. It does do what it says. You get to control the sex with Tera Patrick and her friends, along with the direction that the storyline goes in. As long as you make horny choices, you'll have a long adventure with Tera and her friends. If you shy away from those kinds of decisions, the movie may end earlier than you'd like. But that's part of the fun…going back and doing it again differently. There's also the ability to explore all your options while you're watching the different scenes. Bottom line, I had a lot of fun with this one. I enjoyed the extra control the viewer is given.
This movie is the perfect treat for Tera Patrick fans because she's in 97% of it. It's not one of those movies that hype the big star and then when you watch it, she's in 1 or 2 scenes. If you want Tera, you get Tera…for I believe a total of 3.5 hours.
Did I have to touch myself? Yep, more than once because the sex was hot. I got to personalize it exactly how I wanted it and there was a great deal of dirty talk too.
At the time of writing this review, this DVD can be purchased for about $40. I think that's a great price for the amount of sexy entertainment you get. It's a personalized DVD you can watch and interact with over and over again and still feel like you have something new. I highly recommend adding InTERActive to your collection.
Where It's Available: