Michael Ninn – Shock
Michael Ninn – Shock is available to buy here or Watch Online
Basic Storyline
Jon Dough plays Malcolm Stevens a man who is has fallen into a coma and is trapped in his own world of sexual hallucinations. When the doctors try to use electroshock treatment therapy it only causes Malcolm to kidnap the assistant's, Shyla Laveaux's, mind and drag her into his world.
Wanting to get Shayla back, they call upon the crazed Dr. Mangrove, played by Tyffany Million, to use their time warp type machine to go into Steven's mind and get back Shayla. Everyone that enters the sexual hallucinogenic world of Malcolm Stevens is in for such crazy sex it blows their minds.
Number of Sex Scenes
There are a total of 10 sex scenes, including one big orgy at the end. Sex scenes contain heterosexual sex, lesbian sex, anal sex, oral sex, threesomes, foursomes, orgy, and lots and lots of women masturbating with dildos.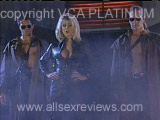 Hottest Sex Scenes
Jon Dough's character, Malcolm Stevens, has several maids at his disposal. In this particular scene they (Jill Kelly, Juli Ashton, Misty Rain & Felecia) start to get frisky with one another. Lots of fondling and kissing leads Shayla Laveaux and Sunset Thomas (who plays Jon's driver) to get it on in a big way.
The most exciting part of the scene was when Shayla inserted this double dildo into her pussy, got on all fours right in front of the couch and Sunset sat at the edge of the couch and inserted the other end of the double didlo into her pussy and Shayla fucked her hard with it. Shayla just kept banging her pussy good. At one point, Sunset was whipping Shayla's pussy which was pretty sweet too.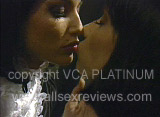 The female masturbation sequence with Rebecca Lord, Caressa Savage, Jenny Blair and Marine Cartier definitely rocked. They all got themselves with different kinds of dildos.
The lesbian orgy scene, about 2 hours into the movie, was crazy. Juli Ashton, Misty Rain Felecia, Jill Kelly, Shayla Laveaux and Sunset Thomas all got it on in rubber with dildos and buttplugs. You name it they had it. It was almost too crazy.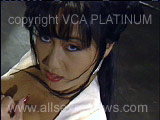 DVD Extras
None really, just short bios of the stars and you have the ability to jump to a scene of one of the featured stars in the movie.
Overall Thoughts
In 1990, this movie won the "Best DVD" Award from AVN. It has also received 5 stars from Adult Video News. In seeing the amount of porn that I have, I can see why. Most of the movie was filmed in front of a green screen, so most of the backgrounds were edited in later on. For an adult movie they pulled it off fantastically.
This movie rocked! It has great hardcore sex in it, however, it does take a certain person to enjoy this movie. It was way too long for a friend of mine at about two and a half hours, although I was so into the movie it didn't bother me.
It's written by Antonio Passolini and his movies are definitely an acquired taste. They're usually unique, and this one has given new meaning to unique.
So, if you're looking for just porn that gets right to the action and gets it over with, this movie is probably not be for you. There's tons of special effects, slow motion shots and you see the same shot in slow motion from every angle possible before the movie continues.
It doesn't feel like the movie is in real time, it's like you're in some kind of cool time warp. It's an extremely different kind of porn that I highly recommend!
Starring: Juli Ashton, Tiffany Million, Shayla Laveaux, Jeanna Fine, Sunset Thomas, Tricia Yen, Marine Cartier, Caressa Savage, Jill Kelly, Jenny Blair, Misty Rain, Felecia Kia, Rebecca Lord, Jon Dough, Vince Vouyer, T.T. Boy, Peter North, John Decker, Sean Ryder, with a special appearance by Ona Zee
Director: Michael Ninn
Running Time: 2 hours and 30 minutes
Where It's Available: