Andrew Blake – Pin Ups 2
Andrew Blake – Pin Ups 2 is available to buy here or Watch Online
What You're In For
This movie immediately reminded me of a Calvin Klein commercial meets a Penthouse® Magazine pictorial. It features supermodel type women having sex with each other, ethereal/opera music, slow motion camera work, scenes in black & white and color and a seductive female voice speaking to you in surround sound.
Sexiest Bit
Fetish pin-up model Dita wearing a black dress suit complete with revealing bra, totally reminiscent of Madonna's "Express Yourself" video, is getting ready to fuck Regina Hall. As she strokes her black strap-on cock she looks at the camera with eyes like a naughty little school girl that wants to get caught with her hand in the cookie jar. After she teases and tantalizes you by stroking and rubbing her cock against Regina's sweetness, she gives you that naughty school girl look one more time, as if asking for your approval and then fucks her.
Most Annoying Bit
Dita Von Teese gets caught masturbating on the phone by her mistresses and must be punished. This scene is really melodramatic. Dita has to act as though she is trying to escape, but it is just too over the top. Dita's overacting and the slow and ethereal music, do not match the pace of this scene.Its like a dubbed kung fu movie that just doesn't match up.
Most Surprising Bit
I was very surprised to see Inari Vachs in an Andrew Blake movie. I've seen her in many other movies and just didn't think she fit the profile of a tall, leggy, feminine, delicate, soft, model type. To me she's a little hard looking and too short, but with the magic of Andrew Blake photography, she was a wonderfully surprising addition. What was not surprising was that she provided all the hardcore scenes and did a damn fine job at that. Most Extreme Bit: The fact that it was in slow motion probably helped, but Inari can suck some serious cock. The most extreme this movie got was her sucking some guy off and taking a facial. But that's the uniqueness of Andrew Blake.A facial shot like this, in a scene by any other studio, would be considered very hardcore but because it's an Andrew Blake movie, it doesn't feel that way.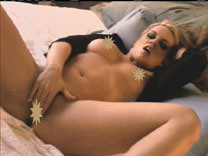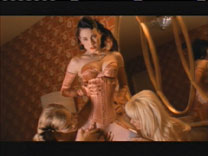 Best Bit of Dialouge
"Pure white panties…..Dirty thoughts….Don't stop until you come." (It's pure genius)
Most Amusing Bit
While Anita's standing, very seriously sipping her hot cup of tea, Dita Von Teese pulls down her panties and starts to finger her. Tea anyone?
Most Unusual Bit
Anita dons a pair of platform shoes with a rubber dildo for a heel and fucks Dita with it.
What's It All Add Up To
The one thing I love about Andrew Blake's movies is that you are always guaranteed gorgeous women pleasuring one another in picture-perfect scene after picture-perfect scene and once again Andrew Blake has created an erotic film that is beautiful on all levels: cast, costuming, sets, music and editing. He knows what his viewers want and he gives them nothing less. Pin-Ups 2 features Dita Von Teese, a very sexy Betty-Boopish-right-out-of- the-fifties pin-up chick. Until now, I have only seen Dita featured in fetish magazine pictorials and it was like this fantasy pin-up model that doesn't really exist came to life and was real, wanting to pleasure me for 90 minutes. Bottom line, if you're a fan of Dita or Andrew Blake, you'll love Pin Ups 2.
Starring: Dita Von Teese, Anita Blonde, Inari Vachs, Temptress, Regina Hall and Nina
Director: Andrew Blake
Running Time: 90 minutes
Fetishes Covered: dominance/submission, super high hells, smoking, stockings and corsets
Where It's Available: