Flashpoint, starring Jenna Jameson
Flashpoint, starring Jenna Jameson is available to buy here or Watch Online
Hype
At this time this movie came out, Flash Point was the biggest budget porn movie to date.
Basic Storyline
After Doug, a member of the Fire Station #23 gets killed in a car explosion, the rest of the team is left with some pretty heavy issues to handle. Some wonder why they ever got involved in firefighting, others just try to deal with the pain and anger of such a loss while continuing to save lives. Jenna has to deal with not only an angry ex-boyfriend that thinks she left him because he has a bum leg after saving her life in a fire, but now she's the prime suspect in a line of warehouse arsons. Will Jenna Jameson be convicted or will she find the person responsible for this?
Number of sex scenes
There are a total of seven sex scenes and all of them are totally hot. They also all contain different actors and actresses working with each other, so you don't see the same two or three people having sex with each other. And just about every type of sex is covered: plenty of oral, anal, and vaginal sex. You'll encounter an orgy, threesomes consisting of 2 girls 1 guy, foursomes consisting of 2 girls 2 guys, and a lesbian scene with Jenna Jameson that'll make you want to slap your mammy!
Hottest Sex Scenes in Flashpoint
That's a tough one, they were all killer! I'd have to say the second scene with Jill Kelly, Johnnie Black and Steve Drake is the first one. Jill Kelly and Johnnie Black are discussing the recent tragedy when Steve Drake walks in to console them. They each discuss their feelings working things out emotionally and bamm! a perfect threesome. Steve's got it made, finger fucking Jill Kelly while watching Johnnie suck his hard cock. The scene is rather long and sizzling hot. Jill gets fucked hard and Johnnie gets it in the ass. Sex Scene #2 was awesome and I was totally worked up, awaiting the next sex scene.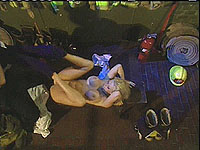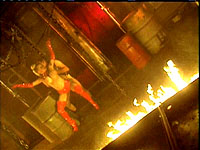 Mickey G. has an incredibly awesome sex dream about the 7 of them having a huge orgy out in the hot sun on the fire truck. Jill, Johnnie, Sidnee Cox, Brad Armstrong, Mike Horner and Jonathan Morgan, there's fucking and sucking everywhere you look. There's two guys with 1 girl and 2 girls with one guy. It's hot, it's long and it got me totally worked up.
Jenna Jameson is one of the hottest adult stars today, but when T.T. Boy has a dream about her, she looks hotter than ever! She's wearing red pvc gloves, skin tight-ass hanging out shorts and platform thigh high boots with a killer collar that has spikes sticking out of it. She looks like a total bad ass and teases the shit out you dancing and slithering around. Finally T.T. Boy appears in the dream and fucks her like the bitch she is. Jenna's got her legs up and around his neck, while still standing and he's fucking her good. The scene takes place in this hot, steamy warehouse with all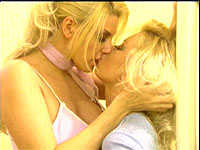 And if that's not enough of Jenna Jameson for you, there's a totally steaming sex scene between her and Brittany Andrews.
Jenna takes the dominant role and gives Brittany Andrews the lesbian fuck of a lifetime. Jenna Jameson is so hot when she takes control of her pleasure. She was so selfish having Brittany the way she wanted to have her and when Brittany Andrews tried to take over, she told her exactly how to do it. And they did it in the ladies room over the toilet. It was so filthy, it made me wet.
DVD Extras
Director's commentary
8 minute interview with Director Brad Armstrong
36 minute behind the scene documentary
Audio bios
Movie trailers
Slide show photo gallery.
Overall Thoughts
This movie has everything: drama, sizzling sex, great special effects, real sets and fire trucks and helicopters, a good story line, believable acting and all totally hot actors and actresses. The movie does start out with a tragedy and I did wonder how they were going to get me hot after this horrible death, but it definitely didn't take that long.
This is supposed to be the highest budget porn to date. I believe it! There were a lot of explosions and special effects which had to cost a pretty penny. Plus they had an actual fire engine and fire station that also had to cost some money, plus the helicopter that was used in the beginning and I'm sure all these fantastic actors and actresses didn't come cheap.
All in all, Flashpoint is a great watch as a whole. There weren't really any scenes that I wanted to fast forward threw. Everything moved along. The storyline was good, the actors were all attractive and showed some acting skill (Jenna cried in a few scenes and she was believable!) and the sex can't be beat. It's a great movie to watch alone or with a lover. There's something in it for everyone.
Vital Stats of Flashpoint:
Starring: Jenna Jameson, Jill Kelly, Johnni Black, Sindee Cox, Asia Carrera, Missy, Brittany Andrews, Syndee Steele, Brad Armstrong, Mickey G., Mike Horner, Steve Drake, Eric Price, T.T. Boy, Johnathan Morgan and a special appearance by Veronica Hart
Studio: Wicked Pictures
Director: Brad Armstrong
Length: 1 hour 50 minutes
Where It's Available: