Bobby Sox – Starring Nikki Tyler
Bobby Sox – Starring Nikki Tyler is available to buy here or Watch Online
Basic Storyline
There's actually a couple going on at the same time in this Vivid Video. Bobby Sox is partly about Nikki Tyler and her very volatile relationship with her boyfriend, Steven St. Croix. So you've got the drama of their relationship and Nikki trying to find a man that's right for her. You've also got the premier of "My Alien, My Love" coming up and everyone preparing for that. But when Jamie Gillis, the star of this new flick, gets too close to Nikki Tyler, Steven St. Croix gets his revenge by framing Jamie for kidnapping Chloe. When Nikki finds out her boyfriend has framed Jamie, he holds her hostage. So it's up to Bobby, Shanna, and Jamie to get Nikki back in time for the big premiere.
Number of Sex Scenes
Bobby Sox provides the viewer with 6 full sex scenes and 4 teaser scenes. The full sex scenes consist of only hetero couple sex, oral sex, masturbation with a vibrator by Shanna McCullough and a dominant/submissive scene with a little cross dressing.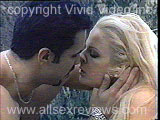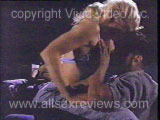 Hottest Sex Scene
The movie theater scene with Nikki Tyler and Bobby Vitale. Nikki decides to spice things up in the movie theater and pops in a porno. She and Bobby go out in the theater and sit just a few seats away from PK Snyder, the only audience member, and gives him a serious sex show! It's not only the chemistry between Nikki and Bobby that's hot, but the whole set up of the scene. You've got a porno playing on the big screen in the background and PK Snyder rubbing one out while he watches Nikki and Bobby bang like dirty alley cats. It's a very arousing long sex scene that made my panties wet.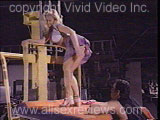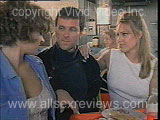 Overall Thoughts of Bobby Sox
This movie was not what I expected from Vivid Video. Most Vivid movies that I've seen have been more hardcore and filthy. This flick had more movie than sex. There's actually an all out fight scene in the warehouse when Shanna McCullough, Jamie Gillis and Bobby Vitale try to rescue Nikki. And the fighting was rather believable, impressive for a porno. When the sex did happen, it wasn't as sizzling or outrageous as Vivid usually delivers. It takes place in the 1950's, so you've got lots of short little cheerleader skirts and bobby sox to satisfy the voyeur in you.
Any Nikki Tyler fan would appreciate it. She stars in the whole thing, has a few good sex scenes and where's some rather provocative outfits throughout the movie to keep all eyes on her. Besides the dominant/submissive scene at the end, Bobby Sox serves up some mild porn. I would say that this movie is good for couples, especially couples that are new to porn. It's very heavy on movie and the sex isn't outrageous, no anal and no lesbian scenes. Even the cross dressing by Jamie Gillis in the end is a rather comical way to get into the dominant/submissive scene. Guys if you want to introduce your girlfriend to porn, this is definitely one to try.
Starring: Nikki Tyler, Shanna McCullough, Jenteal, Chelsea Blue, Chloe, Kimberly Kummings, Jamie Gillis, Steven St. Croix, Jon Dough, Bobby Vitale, Alex Sanders, Jay Ashley and T.T. Boy
Studio: Vivid Video
Director: Paul Thomas
Running Time: 1 hour 10 minutes
Where It's Available: