XXX Training, Starring Serenity
or
Watch Online
Initial Thoughts
I've been a Serenity fan for a while, she reminds me of my hot girlfriend that I don't nearly see enough of, and I've always enjoyed Jonathan Morgan's comedies, so of course I had to give XXX Training a watch. I've seen a lot of porn and wanted to see if it was really possible to make a comedy about making porn.
What You're In For
Well, I wouldn't call it comedic genius, but then again it's a porn, so my level of expectation is a little lower than if this was a mainstream movie. But I'm not afraid to admit, it is comical, poking fun at making adult movies. Hosted by Serenity, who I find to be one of the better actresses in the porn industry, she gives you a tongue-in-cheek view of making an adult movie. Between her narrations, there's a total of 6 full sex scenes. The first two which are not so good, but it does pick up and gets much better. There's some hetero-couple sex, lesbian sex, threesome action (two girls, one guy and two guys, one girl), anal sex, lots of oral, dildo action and luckily some filthy talk.
The Hottest Scenes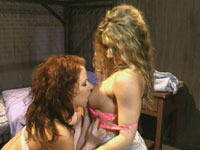 Serenity and Kylie Ireland's lesbian scene ranked up there as tops for me and not just because I'm a Serenity fan, it actually got me wet on many levels. What's supposed to be a scene that takes place in 18th century London, turns into a present day jail scene, so you've got Serenity and Kylie in ripped jean shorts and hoochie mama tops that don't stay on long at all. They rip each other's tops off and get right to it. Lots of girlie kissing, which I love and titty sucking. Although it doesn't take them long to lose the shorts and start the oral delights. They both lap up each other up like a dog in heat and before you know it, the dildos are out. By the way, I do believe that those are Las Vegas Novelties Dildos, Serenity's toy company. I thought that was funny. If you're gonna use toys, use the one's from your own company.
Anyway, these hotties can't get enough of each other, licking each other's juices off the dildos. There some filthy talk involved from both and Kylie takes one in the ass and one in her pussy, so there's some lesbian dp that you can't be without. Kylie also begs Serenity for it, which got my panties soaked too. Serenity took control over Kylie's pussy and wasn't gonna stop until Kylie burst into orgasm. And Serenity had a serious one all over Kylie as well.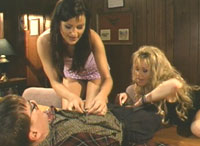 The Nina Ferrari, Lola and Kyle Stone scene also rocked. Kyle Stone was playing the part of a wealthy nerd, who gives money to the porn companies and in return they send him a couple of contract girls. Kyle Stone plays the part well, so it's like Nina and Lola are totally molesting him, which I found to be rather exciting. There's some nice techniques within this scene, ones that won't be forgotten by me the next time I see my girlfriend. Kyle's got Nina bent over the conference room table as Lola squats underneath to get an upclose view. As Kyle fucks Nina from behind, Lola grabs Kyle's cock and sucks on it, then feeds it to Nina's awaiting pussy. Sweeeeeeeeeeet!!! Another great moment, Kyle has Nina laid out on the table, butt at the edge, with legs spread in the air. As he fucks her, Lola comes in from above and licks her clit, makes Nina come in a big way! Yep that one made me wet too!
Surprisingly Exciting Scene
Friday, Jason McCain and Pat Myne was a surprisingly exciting scene for me. I usually don't get too wet over 2 guy, 1 girl scenes because there's just too much cock. (I'm a lesbian at heart!) Anyway, it appears that Friday can suck one hell of a cock. She's a more full figured gal, not fat in anyway, but she's not a skinny minny either. She's got some meat on her bones, which I'm finding lately to be rather exciting. There's one scene where she's riding Pat Myne in reverse cowgirl, but taking it anally, like a champ I must say, and then asks Jason McCain to come on over and fuck her pussy too. So now, we've got a serious "Friday Sandwich" going on here. There's no room at the inn kids! And while she's taking the dp, she's also rubbing her clit. I was surprisingly very excited by this, of course if it were me I would've exploded right away! Go on girl!
Great Quote
Serenity says to Kylie, "Hey convict, you wanna have some sex?"
Most Annoying Scene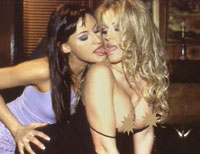 Zana and Lee Stone's scene was very difficult to get through. First of all, I had just gotten through the opening sex scene which wasn't that great due to the fact that Serenity's moans and groans were most annoying and rather fake sounding. Then we get to this scene. Now Lee Stone has a damn fine body complete with huge cock, but Zana's moaning sent me over the edge. It had to be the most annoying, overplayed barking, I could ever experience. It made the scene painful to watch. I've never seen her in a movie before and trust me after this I'll make sure I don't see her again. But damn, I could barely get through the scene. The bark was never varied or switched up, it just stayed the same and became annoying like fingers being scratched on a chalk board. Damn girl!
DVD Extras
There's a good amount of extras included on this DVD. You get behind-the-scenes video footage and pictorial footage, there's interviews with Serenity, Nina Ferrari and Kyle Stone (which aren't that exciting), Audio bios, Commentary with Johnathan Morgan, outtakes, trailers, photo gallery and a bunch more, but those are the extras with some substance.
Overall Thoughts on XXX Training
I have seen Johnathan Morgan's comedies in the past and have always liked them. This one was a little more disappointing, in the sex scenes department, than the others because the first two weren't very good and had some real annoying features. That's not a good opening for a movie, but I know Johnathan Morgan doesn't create total crap, so I knew I had to give it a chance. And I'm glad I did because the sex did get much better. I also thought that the scenes around the sex scenes were enjoyable and comical. It's not mainstream cinema so I'm not expecting to fall off the couch laughing, but the fun it does poke was amusing. I also think Serenity plays a great comical, or at least not serious, character. She does bring a lot to every Johnathan Morgan flick which is why I'm interested in seeing the flicks without her. Who's going to play that leading role?
Anyway, this is a sex comedy, and if you don't take your porn too seriously, which you shouldn't, than I think you'll find this one to be enjoyable as well. The outtakes at the end are always amusing and the extras give you a little more bang for your buck. I, for one, always find the commentary and behind the scenes footage to be very interesting and Johnathan Morgan is quite humorous himself, always making it a joy to watch.
So what's my final verdict? Well, after the first two disappointing scenes the others were hot. Would I watch this movie again? For the hot scenes and the comedy, yes. Even though the first two scenes sucked, I don't believe this movie was a failure, so I can not deem it a bad flick although it may make a good rental than a purchase.
Starring: Serenity, Alexa, Kylie Ireland, Lola, Zana, Nina Ferrari, Lee Stone, Randy Spears, Kyle Stone and Ian Daniels
Studio: Wicked Pictures
Director: Johnathan Morgan
Running Time: 1 hour 21 minutes
Watch XXX Training, Starring Serenity online - Download/Streaming