How to Strip for Your Husband, Lover or Partner
How to Strip for Your Husband, Lover or Partner is available to buy here
The Hype
From back of box…The sexy secrets of professional strippers are revealed for the first time in "How to Strip for Your Husband, Lover or Partner," along with advice on preparing for and performing an erotic strip show for your lover in the privacy of your own home.
This program provides easy step-by-step instructions for the ultimate seduction. You'll learn what to wear and how to move, plus you'll learn the three sexy techniques that professional strippers use to keep men coming back for more!
This new edition DVD contains the original 46 minute "How to Strip for Your Husband, Lover or Partner" program, plus over an hour of additional raw behind-the scenes footage of unedited dance routines and performer auditions.
What You're in For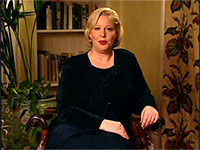 Ronnie Noize interviews 3 strippers on why they got into stripping, what they like about it and what they think are key ingredients to putting on a great strip tease. In the middle of these interviews, you get to see video footage of each woman doing a strip tease.  There are clips of men talking about how they would feel if their wives, lovers did a strip show for them. There are also clips of women talking about what fears they have and why they haven't ever tried stripping for their lovers.  Ronnie helps to build up the viewer and give her confidence in performing a great strip show. Ronnie discusses costuming, props and setting the scene for your own private strip show. Then one stripper, Maxine, shows you a few moves in a practice session while in costume.
Who's this DVD for?
Since the information on this DVD is very basic, it's great for the total novice…someone who's never done a strip tease before.  The information within is easy to pick up and is in no way overwhelming to the beginner. It's also for women who would feel annoyed and/or intimidated by watching pornstar looking strippers. The women in this video have a more woman next door appearance.
Most Annoying Bits
Ronnie Noize does several segments on her own talking to the viewer and she does tend to sound overly scripted.  The information within is good, but it comes off as a little too rehearsed.
Ronnie is interviewing the last stripper, Pixie. Pixie is a rather petite woman. Ronnie asks her how she deals with her small stature and small breasts.  It's as if Ronnie is saying that women with smaller breasts will have a more difficult time or are in some way less sexy.  Being rather small breasted myself, I felt this question was a bit insulting.  Pixie looked a little pissed about the question, but handled it very well.
What was Missing?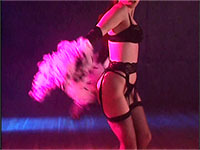 The viewer is taught how to remove clothes in a few simple, yet sexy ways. You learn that you don't have to be professional dancer to pick any of this up, however, that's as far as the DVD goes. Viewers aren't taught any lap dance moves. I thought these might be good to include because they are taking about something very up close and personal.
The information on costuming is very general. If you're really, really nervous on what to wear, I would search elsewhere for more detailed information.
Favorite Bit
Before watching, I was concerned that the women on this DVD would be Barbie dolls and what average woman really wants to see that.  The good news is, the women on this DVD come in all sizes.  One woman is very tall, one is petite and another is full figured.  So no matter what size you are, you shouldn't get offended from the women you see.
I was also hoping that the DVD wouldn't be filled with these outrageous dance moves that one would need a stripper pole and a full stage for.  I was happy to see that was also not true. These women teach you the basics of how to remove your clothes in a hot and sexy way.
Does it Deliver What it Promises?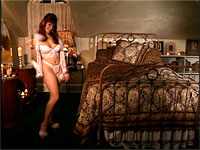 As long as you're not looking to be a professional stripper, How to Strip for Your Husband, Lover or Partner does deliver what it promises. You do hear professional strippers thoughts on putting on a great strip show. What you hear are their opinions, so no one is right or wrong, it's just to what degree you agree with them. I think their advice and points were very basic, but then again, this DVD is for the novice and nervous stripper. The advice that Ronnie gives is spot on. She does take time to tackle popular concerns that women have and I believe she does instill confidence in the women that watch this DVD.
The original 46 minutes also delivers what it promises. I just wish it went a step further to give some lap dance advice and moves as well. That way once you do get naked or almost naked, you know how to get further into sexual play with that all important lap dance. The extra hour of footage is helpful because it gives you, the viewer, more to choose from, learn from and practice. A good strip tease is all about being comfortable with yourself and what you're doing. Practicing some of the moves on this DVD will make that possible.
Overall Thoughts
For under $13.00 at the time of writing this review, How to Strip for Your Husband, Lover or Partner is a good DVD to purchase if you're really nervous about doing a strip tease for your lover and have NEVER done it before. Nothing on this tape is too overwhelming to pick up quickly.  Yes, practice is needed and is also stressed.  If you watch this DVD from beginning to end, you should feel pretty good about attempting your first strip show and have some moves under your belt to immediately start working on.
Starring: Ronnie Noize, Maxine, Nikita and Pixie
Studio: Aria Entertainment Group
Running Time: 120 minutes
Where It's Available:
Order How to Strip for Your Husband, Lover or Partner from Amazon