Sorority Sex Kittens Part 1
Sorority Sex Kittens Part 1 is available to buy here or Watch Online
Number of Sex Scenes
There are a total of 6 long, nasty sorority sex scenes, containing heterosexual sex, lesbian sex, threesome with 2 guys and 1 girl, a foursome with 3 guys and 1 girl and the famous 13 girl orgy.
Basic Storyline
An old Alumni is on the trail of the Upsilon Sigma Sorority at Lost River College. He's trying to find out what these sorority girls are really up to with their sexual escapades. As he tells his story, you see who the main players are, what they're doing, who they're doing and how they get more members. It's a really fun story.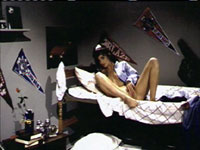 Hottest Sex Scenes
Well, right off the bat, the 13 sorority girl orgy scene at the end is ass kickin'. There is a ton of pussy licking, tit grabbing, tit sucking, pussy banging and finger fucking going on. They all just start ravaging each other's bodies. It's a damn lesbian-fest! And all the girlie moaning with Madison's periodic dirty talk and freaky sex acts made it all the more exciting. It's an all out lesbian fuckfest!
Since I'm a fan of Madison's, the opening scene rocked. Madison is giving Mike Horner a blow job. She's got her freak on as always with tons of dirty talk, a great way to start a porn! You get to see Mike eat her out and bang her from behind, as she tells him to fuck her hard. This is the very talkative, very horny, very freaky Madison that we all love. It's a quick scene, but it's got all the action.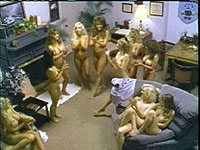 I'd have to say the next scene to get me totally hot and bothered is the lesbian scene starring Victoria Paris and Melanie Moore. These two naughty sorority girls give each other a lapping I could only wish that I was involved in. It's a nice long scene with lots of pussy licking close up shots. You watch them undress each other and take turns lapping up each other's sweetness. But they have to stop and switch so they don't cum too soon. What gets them completely off? Pussy rubbin' and it was damn arousing. I think I was totally soaked after that one scene.
The foursome starring Selena Steele, Peter North, Tony Martino and T.T. Boy was hotter than hell. Selena takes all of them at once; on her knees blowing and stroking them. Tony's the first one to lay her out on the bed and fuck her hard. Selena gets fucked by each one of them before she's done. Of course Peter North is the last to through her a bang and what a bang! I think this is one of the hardest fuck scenes I've seen in a while. Just when Peter thinks he's giving it to her as hard as she wants it, she starts to bang her pussy onto his cock so fast and furious that he almost loses his balance.
DVD Extras
Not really, there's some photos of the shoot, you can jump to any scene, you can choose a porn star and jump to her scene, a commercial for VCA's website and pictures of boxcovers of other VCA Classics titles. The one thing I did like is right after the 13 girl orgy scene, they give you a preview of the 26 girl lesbian scene in Part 2. That sold me on it. What is nice about the DVD is that it's in Surround Sound. So those of you with a kickin' system will feel like you're right in the middle of the action.
Overall Thoughts
Sorority Sex Kittens Part 1 is worth the cost just for the 13 sorority girl orgy scene at the end. But as a whole, the movie is rather enjoyable. All the sex scenes are totally arousing. I even liked the first sorority pledge meeting where Victoria Paris has all the pledges remove their tops, bend over and lift their skirts to introduce themselves. Even though there was no sex, the scene had an overall filthy feel to it. The pledges seemed so vulnerable, exposing themselves the way they had to.
All the women are hot, but they don't look like porn stars. Of course their boob jobs give them away, but their makeup isn't too overdone like in most movies. So all the actresses are believable in their roles as sorority girls. Yummy, yummy, yummy!
I originally got this movie because it was on Playboy's top DVD list. I can definitely see why. Your video/DVD collection is not complete without this sorority girls title.
Starring: Ashlyn Gere, Victoria Paris, Selena Steele, Kelly O'Dell, Bionca, Melanie Moore, Alexis, Devell, Shayla LaVeaux, Summer Knight, Lacy Rose, Angela Summers, Shawnee Cates, Teri Diver, Stacy Nichols, Tiffany Minx, Madison, Sharon Kane, Time Lake, Peter North, T.T. Boy, Mike Horner & E.Z. Ryder
Studio: VCA Classics
Director: Michael Craig & Jim Holliday
Running Time: 94 Minutes
Where It's Available: