Porn by Numbers Kit
Review by Ann Andriani
What is it
This is a complete erotic paint by numbers kit. Now, you can become an erotic painter with ease.
Initial Thoughts
My boyfriend and I stumbled upon this site as we were surfing the net one night. Since I'm not an artist, I mean not an artist by any sense of the word.I figured this would be something to try. Plus it's sexy, so how can I pass up the opportunity? I checked out the different pictures that were offered to paint and placed my order via Paypal. I wasn't sure how quickly I would receive it or even in what quality I would receive it in because I was making a purchase on what appeared to be a free homepage/server. That usually makes me a little learly, however, there was nothing to worry about. I received my kit rather quickly, I believe within a week, and was extremely impressed with what I got. Now I can't tell enough people about it!
What you get Each kit includes the following:
A full size 8″x10″ numbered, outline of the print on real canvas.
Approximately 3″ long tubes full of paint that is needed to complete the picture. All colors are supplied.
If the background is a solid color, you get a little jug of that.
1 paint brush
A postcard of the completed picture to guide you along
A plastic box frame for you to store your painting once it's finished
What I Liked
This kit comes with absolutely everything you need to paint your own erotica. I didn't have to go out and purchase a thing! The paint supplied is more than enough for the picture, so you don't have to worry about running out. The paint brush you are supplied with is of good quality; I used it for my entire painting and it didn't give me any problems. Each tube of paint has a clearly printed number on the cork top, so there's no possibility of you accidentally grabbing the wrong tube.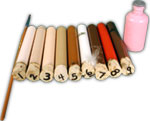 Since I'm not an artist, I know nothing about shading, blending, etc. but with the numbers, I was able to just kick back and enjoy myself. It was a very relaxing experience for me, someone who is not a painter and who is never happy with the things I do. I painted this on my dining room table. If I happened to slip and get some paint on the table, it came off very easily and did not stain. My hands and clothes were also safe, everything washed away easily with soap and water. This is a very good thing because since I haven't done this in a while, I was like a little kid getting it all over the place, but now that I'm finished, there's no trace of any paint in my house.
My nails are not short, so at first I thought that would give me a problem removing and replacing the cork tops on the paint tubes, however that was NOT the case. The cork was sturdy, none of the tops broke on me. In fact, my project is finished and they are still in tact.
What I Didn't Like
I can't really say there's anything I didn't like. There was some confusion over the colors, but I honestly think that was due to my lack of experience. There were some colors that I was instructed to use to shade the one side of the woman's face. However, when I applied the paint and even after it dried, it looked a little too dark, so I wound up making my own revisions and painting over the darker colors with lighter colors until I felt that it was more pleasing to my eyes. If that would have caused me run out of paint and not finish the project, I may have considered it a flaw in the product, but it had no affect whatsoever. I'm finished and still have plenty of paint left over.
I noticed that I had a lot of cracking on my painting, but I think that's also due to my lack of experience. My boyfriend, who is more experienced with this kind of thing, had told me when I started to paint light layers. In my excitement, I think I applied it pretty heavily initially, so that was also my error, not any fault of the product. At least I know now to be careful with the next one.
A Quick little tip
Even though I'm no expert, I do have one tip. Since I don't have a painter's palette, I wanted to keep all the paint colors easily available to me, so I can see the numbers. I stood all the tubes inside a short drinking glass, which allowed me to quickly and easily grab the correct color, take off the cork top, paint right from the tube, stick the cork top back on and place back in the glass. It made things very easy and I didn't have tubes of paint rolling all over the place.
The only thing I would change
This is kind of funny because it has absolutely nothing to do with the product. The website address is not something that's easy to memorize due to it's rather long and nondescript URL. The only way to really get back there is to bookmark it. If it was something easy to remember, people could get there more easily and maybe then more people would be able to experience such a great kit. So if you're interested in this but aren't going to purchase it right now, make sure you bookmark the page.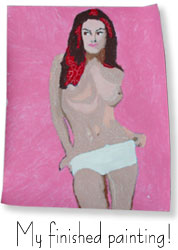 Overall Thoughts
I haven't engaged in a fun solo project like this in a long time and I haven't painted anything in over 15 years.probably longer. I haven't done it because usually I'm just not patient enough with myself and the process, and I know that a good painting can't be done in one day/night. Plus, I haven't found anything that I really wanted to paint. The stuff I've seen in craft stores just seem boring, but because I'm a pervert and love all things sexual, this was the perfect kit to get me started.
As of the time of writing, all available pictures are erotic, meaning there really isn't any hardcore porn. It's all in good taste, so this is something that you don't have to fear someone seeing when leaving it out to dry. I can see this being a great erotic gift idea for that special someone or friend.
I had a blast with this! These past couple of months have been rather stressful for me and relaxing is not something that has come very easy, so I was a little concerned about starting this artistic project now. However, with the kit being so complete and with it being paint by numbers, I found this to be not only fun, but extremely relaxing; a great way for me to spend my free time.
I'm pretty sure my painting didn't come out as good as others that have purchased from Scarlet_A…see there's the perfectionist in me. However, when I started this project, that was not my goal; it didn't have to come out perfectly. I purchased this kit for the experience and had a very enjoyable and very relaxing one at that. If you're more experienced with painting, I'm sure yours will look much better. However, that's also the point…you don't have to be an artist to have fun with this or to make a good looking painting.
Wow, the review is almost finished and I haven't even mentioned the best part about these kits.At the time of my own purchase and writing this review; they're only $15.00 with an additional $5.00 for postage, that's amazingly inexpensive! I can say with certainty that I will probably be getting the whole collection.
This Porn By Numbers Kit got a perfect rating… I believe this is the only product on this site to get a 5 out of 5 rating! The price is more than affordable, it's a steal. You get everything you need to complete your painting. If you want to get different color paints you can, but you don't have to. If you want to get more brushes you can, but you don't have to. You can even get another frame, but you don't have to. This project is literally accomplished right out of the package when it arrives. Including the box frame to display it in, that was the icing on the cake for me. I give this sexy product a perfect rating because I honestly don't know what else could have been supplied for such an affordable price. There was nothing I needed and even though the my painting is not the most beautiful, I had a great time doing it! Bravo Annette!
---