njoy Pure Wand – Stainless Steel Dildo
njoy Pure Wand – Stainless Steel Dildo is available to buy here
The Hype
From njoy's web site: The njoy Pure Wand provides a direct connection to your favorite Spot – G or P – or wherever feels so good. The Pure Wand is crafted with perfect curvature and ample reach so you can lay back and relax while you pleasure yourself or your partner with firm, controlled massage.
Initial Thoughts
When I opened my toy package and took the Pure Wand out, I was surprised at it's weight. At 1.5 lbs., this is the heaviest dildo I've ever played with and my curiosity was immediately peaked at whether or not this would make a difference in pleasure.
What I Like
It's a very discreet, nondescript, non-penis looking toy. Plus it comes in a great black wooden storage box, similar to jewelry box, so you don't have to worry about leaving it out for others to see. It does have the njoy name and logo on it, but that can easily be painted over for maximum discretion.
The problem with a lot of g-spot toys is that the curve usually doesn't work out or there's not enough of the toy to play with to make the curve work out. That's not the case here. The length and the curve of the Pure Wand allows you to easily lay back, hold onto the Wand and get it in the proper position for successful g-spot stimulation. It was like there was a big handle on the toy, I loved it!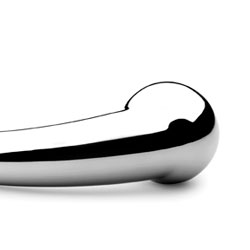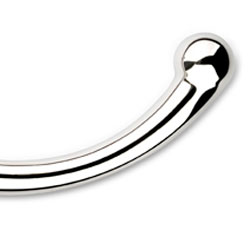 There's a thin bulbous end and a thicker bulbous end for penetration, so we're given options. I can't immediately accept thick toys so I started out with the thinner end and then as I got more aroused, I treated myself to more fulfillment via the thicker end and it was quite divine.
The weight of the dildo really does make a difference. Proper g-spot stimulation requires a toy that is firm and has some substance to it. The weightier and the harder it is, the less work we have to do to stimulate ourselves. I found with the Pure Wand that I didn't need to use as much muscle for tapping or applying pressure. The weight and firmness of the metal helped to magnify my movements, making me work less hard, another plus.
Being metal, the Pure Wand is very hard so it won't bend or flex, another important ingredient in g-spot stimulation. However you point and move it, this baby is going where you want it to. So once you find your g-spot with it, you just have to keep tapping or applying pressure to the same area, no guesswork.
Since it's made of medical grade stainless steel, it's a great toy to share with others and for anal play; it can easily be completely cleaned and disinfected because it's totally non-porous. Cleaning is recommended between partners and orifices.
Chilly Willy Bit
It's a metal dildo so this sucker is going to be cold against your skin. For me, that's an immediate turn off. So it's important to soak or run it under warm water, or keep it wrapped in a warm towel before you use it. That way, it won't be such a shock. The good thing is it warms up very quickly. And if you're adventurous and want it really cold, that's a piece of cake too by putting it in the freezer for a couple of minutes.
Surprising Bit
The Njoy Pure Wand is not a vibrating toy, which normally is a downer for me. I love my vibrating toys! However, once I had it in position, pushing against my g-spot, I wiggled it quickly from side to side, resulting in a feeling of vibration inside me which was really, really cool.
Cleaning
It couldn't be easier. This is a medical grade, stainless steel dildo, a non-porous material, so you can completely submerge it in soapy water to clean and it will be completely disinfected. You can also take further steps, according to the instructions, by sterilizing in boiling water or by submersing in a mild 10% bleach solution, being sure to rinse well after. Medical Grade Stainless Steel is an expensive type of stainless steel that will not rust. So there's also no worries about your toy getting funky in the future.
Guest Comments (Another Use)
I showed this to my lady friend and once she held onto it she made the comment that by keeping it on your nightstand, it also serves as a damn good weapon against any intruders.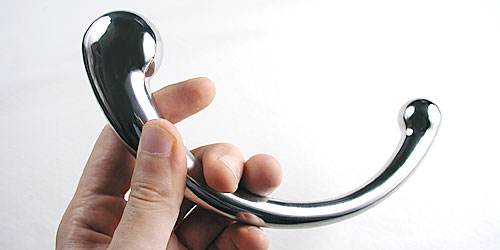 Overall Thoughts
I've used many g-spot toys in my day and most of the time I didn't understand what the excitement was all about because I didn't really feel anything that was exciting enough to talk about and continue playing with. Now I understand what a proper g-spot toy is, it's the Pure Wand by Njoy! It has the all important weight, making you feel like you're being penetrated with something substantial. The medical grade stainless steel is about the hardest material you can have for a toy, so that baby won't flex or bend out of place. Plus, every tap and pressure you apply to your sweet spot will be felt. The curve and length of the Pure Wand allows you to find you g-spot with ease and is so comfortable to use that you won't easily tire out from trying to maneuver the toy. It's very discreet and surprisingly pretty with a solid storage box to keep it in and travel with.
It's a versatile toy, a thick and thin end gives you options for penetration. Since it can be completely cleaned and disinfected, you can use it for anal stimulation and share it with others, making it a great swingers toy. Since there's no battery compartments, feel free to use it in your tub, shower, pool or whatever other wet environment you prefer to play in. Just make sure you warm this toy up because the metal material very easily stays cold, but don't worry, it heats up quickly. Even though it's not a vibrating toy, a little wiggle, side to side gives you the feeling of vibrations, a very nice surprise. I've been searching for a toy that can replace my husband's awesome finger technique and with the Pure Wand, I have found just that!
I recently read an interview with the designers of the Pure Wand and their thoughts are that the vibration trend of sex toys is starting to change and that women are looking for different ways to pleasure themselves. From what I've heard and experienced, this is a true statement. Vibrations are a sure thing, a no brainier. However, it's really cool and totally hot to find new, non-vibrating ways to feel good and climax. It sounds like the njoy folks want to be at the forefront of this movement and I'm excited to experience all they have to offer.
At the time of writing, this toy is on sale at Babeland.com for $91.80 which I believe ends at the end of September '08 and has full retail of $108.00. The Pure Wand offers all the njoy folks promise with a little more and with the proper care, this dildo will last a very long time. I highly recommend spending the money now on a quality toy like this that will last, instead of spending smaller sums of money on g-spot toys, like I have, that just won't work and will have to be replaced.
Vital Stats:
Size: Measures 8″ from end to end, straight across and 10″ measuring along the curve. Weighs 1.5 lbs. Thick bulb end measures 1.5″ from side to side. Thin bulb measures 1″ from side to side.
Power Supply: None, it's a dildo.
Water Friendly: Yep, there's no battery compartment to worry about corroding, so splash away.
Extras: Wooden black storage box lined with foam and satin to keep your precious prize in, small instructional booklet.
Where It's Available: