NEA Mini by LELO
NEA Mini by LELO is available to buy here
What's the hype?
From Lelo's Press Kit NEA is a slight and ornate pleasure object with a porcelain-like finish and deceptively powerful purr. Decorating the glossy exterior, pleasing to the eye as well as to the touch, are delicate floral motifs reminiscent of the belle epoque. Ergonomically designed to accommodate all those special places, NEA is handy, rechargeable and exceedingly quiet.
What You Get
One mini massager vibrator that reminds me of a pretty mini computer mouse, a discreet black storage box, cord for recharging and instructional booklet with information on warranty.
What I Like
This is a very pretty, girlie vibrator, one of the prettiest vibes I've experienced so far. LELO understands that many women want something pretty to use for pleasure and they deliver that here.
This vibe offers a variety of stimulation modes besides just constant vibration, which usually annoys me, but LELO got it right, absolutely right! You have the choice of various additional settings of pulse and escalate, but the NEA has been designed in such a way that you won't accidentally stumble upon them at that all important point of reaching orgasm. To experience those functions, you have press a different button to activate them, one that isn't used in intensifying the constant vibrational setting. I can't express how excited I am about this feature. I've spent too much time with vibes that have these extra features where I accidentally stumble upon them and get this intermittent pulse when I need high, intense vibrations to bring me over the edge, very annoying. I applaud LELO for creating a vibe that fixes that problem. Yay!
This vibe has some power to it. When I initially took it out of the package and turned it on, I didn't think it was that strong. When using it during sex, and holding the pointier tip on my clit it brought me all the way to orgasm and a very nice one at that! A vibe is good in my book if I don't have to reach for another vibe to finish me off. The low setting is also nice for warming up and the shape of it fits nicely on my naughty bits allowing my whole vulva to get vibed.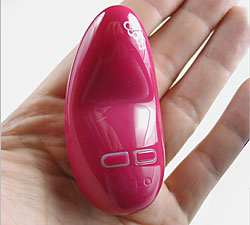 It's a rechargeable vibe that holds a charge for quite a while. LELO claims it lasts up to 7 hours on a full charge, I would say that's about right. Once it's charged, you're good to go for awhile. You can also lock the keys for traveling which was very helpful when tossing it in my purse for a night out, I didn't have to worry about it accidentally turning on.
There's no guesswork in figuring out when you need to recharge it, the color of the light under the buttons will alert you as to when it needs more juice. I love that! And recharging is a piece of cake, just plug the cord into the NEA and the light will change color when it's charged.
The NEA comes with a great, black box to store it and its charging cord in which is very discreet. You can easily leave it out on your nightstand by your bed and no one would have any idea, so it's always nearby and ready for you.
The LELO company is also stepping up and offering a 1-year warranty for this item. The NEA comes with a full instructional booklet with illustrations and a troubleshooting section. Plus instructions are in English, Dutch, French, Spanish and either Chinese or Japanese (since I can't read either one, I'm not sure which one it is).
Not Necessarily Negative, but Should be Noted
It's very important to read the operating instructions because the NEA does take a bit of practice to get the operation right. Once you learn how it works and practice it before you're ready to get jiggy with it, you'll be fine. Don't attempt to take it out of package and get off right away, you'll probably find yourself a bit confused. It's easy to work, you just have to understand it first, it's not as intuitive as others vibes may be.
Cleaning
It's easy to clean with a soapy warm washcloth or baby wipes. Just make sure the water doesn't get in the buttons or plug area.
Overall Thoughts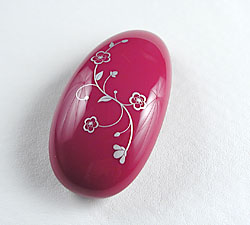 LELO has really impressed me with this vibe. It offers a variety of pleasure modes in a way that allows the user to really choose what they want and not accidentally, in the heat of the moment, skip to something they don't want giving the user more control over their pleasure. Honestly, this feature alone makes LELO vibes worth their price. Once you walk through the instructions, it's a piece of cake of operate. It's a gorgeous looking, discreet vibe that you can easily travel with, use in public and keep on your nightstand. It offers some power to it, bringing my fickle naughty bits to orgasm. There's no batteries to fuss with and no guesswork when it comes to charging it. The intelligent NEA tells you when it needs to be recharged and when its fully charged. It's not a vibe you need to keep plugged in, once it's charged you've got hours of pleasure in front of you. And did I mention it's a pretty vibrator? With it's discreetness, it's a great first time vibe for a woman that's looking for something pretty, something that's not loud and that she can feel good using. I know when I use it I feel like I'm treating myself to something special. The price, at the time of writing, is $89 and I feel that's a bargain for the technology involved in such a beautiful, discreet and fun item.
Vital Stats:
Size: Approx 3″ long by 1 1/4″ wide at it's widest point by 3/4″ thick at it's thickest point.
Power Supply: It's rechargeable, you only need to plug it in when not using it.
Water Friendly: No, you can clean with damp cloth but don't play around or in water.
Extras: Discreet black storage box, cord for recharging, full operating instructions (in English, Dutch, French, Spanish and either Chinese or Japanese) and 1-year warranty.
Where It's Available: