Jenna Jameson is The Masseuse
Jenna Jameson is The Masseuse is available to buy here or Watch Online
The Hype
In a career topping performance, Vivid Girl Jenna Jameson recreates the role of Barbara in Paul Thomas' reworking of his own classic film of 1990. "Jenna Jameson's The Masseuse" took the 2004 AVN Awards by storm, winning 'Best Film', 'Best Actress' (Jenna), 'Best All Girl Scene' and 'Best Couple Sex Scene'. My Initial Thoughts I was very surprised to see that this was a 2 disc set. In fact, I didn't realize that this was a remake of a 1990 movie starring Hyapatia Lee and Randy Spears. So, since a DVD version of it was already included in the package, I decided to watch the original movie first, to see what kind of changes would be made 14 years later. I was really impressed with the original, so I couldn't wait to see what Paul Thomas was going to do with Jenna and Justin.
What You're Really In For
Although the sex scenes are steaming, this is not in any way shape or form what I would categorize as a porno-proper. This is a real movie, with a very heavy storyline, that contains really erotic sex scenes. There are actually 7 sex scenes in the entire movie and just like following the storyline, the sex scenes build and progress as the story does. You encounter hand jobs, blow jobs, lesbian sex, strap-on sex, hetero intercourse and sensual bondage.
Basic Storyline
Jim (Justin Sterling) is a very lonely guy who becomes rather obsessed with his masseuse, Barbara (Jenna Jameson). He doesn't normally get a lot of attention from women, or at least he shies away from them, but when Barbara gives him some attention, and a little extra, for pay of course, Jim can't get enough of her. Feeling bad for him, and what seemed to be, enjoying his total lust for her, Barbara meets Jim weekly after work to play…for pay. Jim starts to fall in love with Barbara…Will she fall in love with him as well? I don't want to tell and ruin it for you. You have to watch the movie to find out.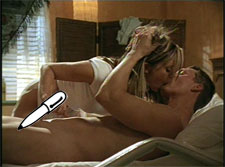 What I Liked
Now, I know this is a porno we're talking about here, but I thought the acting was really good. There were a few moments that might have been a little over the top, but for the most part, the principle actors got me hook, line and sinker. Justin plays a really great creepy, stalker character. His eyes alone portray a lot. There were some scenes where he actually made me feel a little uneasy because his character was so uncomfortable with himself. Jenna also did extremely well playing Barbara. The sexual tension between the two was so thick you could cut it with a knife…Intense!
In general, I'm a big fan of adult movies that have a heavy storyline, well, as long as the actors can realistically play their parts in the non-sex scenes and all the actors did. As a result of such a heavy storyline, I was really drawn into the sex scenes because I already cared about the characters and what was going on. That alone made the sex scenes even hotter.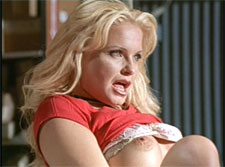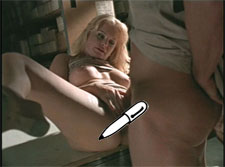 Hottest Scenes
Jim's co-worker, Amy (Wendy Divine) has had the hots for him for some time. In the movie you see Jim make some serious advances towards her, and then abruptly stops. The next day, after confronting Jim about this and confessing that she was mad because he stopped when she wanted him to continue, she brings him into an empty warehouse, props herself up on this large work table, takes off her pants, pulls up her shirt and starts masturbating for him. She was absolutely yearning for him and although he just stood there watching her, unable to speak or move, the scene was totally hot! Wendy put on a very seductive performance. I think the fact that Jim didn't touch her, made it even better because I sat there just wanting him to go for it so badly. It was almost as though I was building up my own sexual frustration…Weird, but good.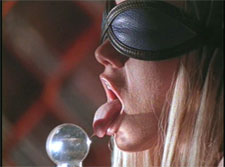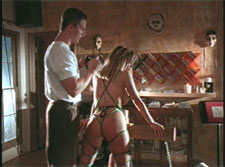 The first time Jim brings Barbara back to his place, he takes her out to his shed, where he keeps all his bondage equipment. He ties up Jenna in an elaborate, full body restraint and teases her with some whipping, spanking and then…Oh God…he takes the glass dildo, handle of the flogger and proceeds to slowly, very slowly penetrate Jenna with it. The very tip is like a little ball and seeing Jenna take that in slowly really did me in. I loved it; the whole scene was very warm and very sensual. The bondage in this scene or this movie was nothing extreme or scary; it was all very erotically and lovingly done. If you're a fan of hardcore bondage, this movie doesn't go that far. The bondage within is very tame.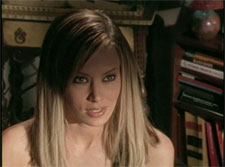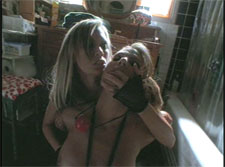 Most Rockin' Scene
This scene won the "Best All Girl Scene" at the 2004 AVN Awards and it's no surprise! Barbara (Jenna Jameson) brings Helen (Savanna Samson) over to Jim's one night to give him a show. From the moment it starts when Jenna stands over the all-body bound Savanna on the bathroom floor, it's absolutely intoxicating. First Jenna teases Savanna by standing over her, just hovering her pussy over Savanna's mouth. She finally gives in and Savanna gives her a good licking. It immediately cuts to Jenna having Savanna propped up on large massage table while she whips her and spanks her. Then it changes to Savanna being tied up in the middle of the room to chains hanging from the ceiling. Jenna wielding her strap-on, fucks Savanna from behind while Justin can only watch. We're then brought into the bedroom where Savanna happily dons the strap-on and fucks Jenna, initially in the spoons position, which is really rather erotic, and then really gives it to her as Jenna lays flat on her back with her legs all the way over her head…A very long and very arousing sex scene. Again, I sat there wanting Justin to jump in, feeling some sexual frustration, it was really cool.
Most Erotically Intense Sex Scene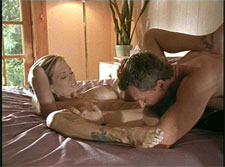 This is the scene that made me jump my boyfriend's bones, pretty much directly after the movie ended…the final sex scene with Jenna and Justin. The connection between the two of them is incredible. As I was watching it, I felt like I had some closure to all the frustration that had been building up before (I really get into these movies sometimes). It wasn't just a hot sex scene. It was also very sensual and very romantic. The passionate kisses, the excitement you could feel from Jim as he took off Barbara's pants, knowing that he would finally have all of her. It was perfectly directed. They didn't get right to the banging…in fact I wouldn't call any of it in this scene banging. It really felt like two people making love, not something you normally see in a porno, which is why Jenna and Justin, being a married couple, were perfect for the roles. Anyway, it took me from slow, passionate foreplay to full love making…a perfect ending sex scene for this movie.
DVD Extras
"The Masseuse" DVD package contains a good amount of extras, the best being a DVD of the original 1990 movie that won it's own AVN Awards. It's definitely worth looking at. There's also the following: • 2 Deleted Scenes • Jenna Solo Scene • Bloopers & Outtakes • Slide Shows • Behind The Scenes • Trailers • Multiple Angles
Overall Thoughts
I loved this movie! I can't express how much I loved this movie. I loved the intense storyline. I loved the passion, the romance and the eroticism. I loved the very sensual bondage. I loved the creepiness of the main character, Jim. I enjoyed all the sex scenes; in fact, I didn't fast forward through any of them or any part of the movie. I enjoyed watching the original movie that came with it. I thought the Behind the Scenes segment was interesting and I thoroughly enjoyed the commentary…A very pleasurable experience through and through. I would recommend this movie to couples and to people who are new to adult movies. It has a little bit of everything, even the bondage that's in it, is hot and passionate, not scary and extreme for beginners. The Masseuse doesn't skimp on anything. I'm very glad that it won as many awards as it did because it really is a treasure to see and a treasure to own. I'm certain that I'll watch it again and again.
Running Time: 1 hour 32 minutes
Where It's Available: