Lipstick Vibrator
Lipstick Vibrator is available to buy here
What's the Hype
It's a very discreet vibrator that's powerful and quiet.
How's It Supposed to Be Used
Besides accidentally taking it out of your purse and trying to reapply your lipstick in the ladiesroom and then it accidentally starts to vibrate and everyone stares at you and finds out you're a closet purve; you hold it right on your precious love button. It also makes a great bachelor party gift for the bride-to-be. Just don't wrap it in it's box, put it in another box. She won't get it till she turns it on.
The Best Parts
If you're looking for a small vibrator that in no way shape or form can be mistaken for a sex toy, this is it! It really looks like a stick of lipstick, go ahead and compare. I love to give it to my friends and watch them open it and activate it. The look on their face is priceless. It is really quiet. You could probably use it in your cubicle or on the bus and your neighbor wouldn't have a clue. The battery lasts a long time too. It doesn't poop out after a few uses, which is nice.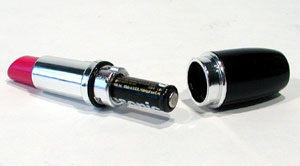 The Annoying Parts
Since I need some serious power from a vibrator, the lipstick vibrator didn't quite do it for me. It felt really powerful when I took it out of the package and turned it on, but when it was time to do what it was supposed to do; it fell a little short. Although, if you're a woman who has a very sensitive clitty, this may be perfect for you. The vibrations are nice and smooth, just not powerful enough to send me to orgasmic ecstasy.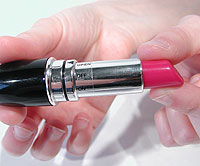 What's It All Add Up To
The lipstick vibrator people definitely succeeded in designing a vibe that actually looks like a stick of lipstick. There are so many out there that just don't make the cut. You can see it, the good intentions were there, but at some point, they lost it. Anyway, it is really quiet, another major plus. So the discreetness of this vibe can't be beat. Use it at the office, in the car or on the airplane, just don't give yourself away by yelling too loud when you cum. It's an amazing product and I can see it being the perfect vibrator for a woman who wants to try a sex toy, but doesn't want anything sexual at all, not in her purse, not even in her house. And it's not too strong either, I'd say it's right in the middle. It is a little pricier than I originally expected, but you're paying for the discreetness of it, the fact that it really, really, really looks like a stick of lipstick and if that's what you're looking for, it's worth every penny.
Size: 2 3/4″ long by 3/4″ wide (the size of an actual stick of lipstick)
Power Supply: 1 "N" battery, included in package
Time to Orgasm: 5 minutes
Water Friendly? No
Where It's Available: