Koi – Vibratex
Koi – Vibratex is available to buy here
What's the hype?
From Babeland's website Forget the catch of the day, here's the catch of a lifetime! The beautifully detailed fish bucks and wriggles its tail while the dildo draws circles and the pearls roil. With the battery pack designed into the base of the vibrator, there's no more keeping track of that extra component.
Initial Thoughts
I was excited to receive this item. I have not experienced a real Japanese vibrator before and always heard such good things about them that I was looking forward to experiencing something special. When I took it out of the package, I thought it looked pretty. As the Japanese do, the dildo looks similar to a penis on one side, but if you rotate it, you'll notice the other side looks like a man's face and the clitoral stimulator looks like a fish. So instead of rabbit ears vibing your clit away, it's the two ends of a fish tail.
What I Like
Unlike the newer, more technologically advanced vibrators that are coming out these days, the Koi Vibrator is a piece of cake to operate with 2 separate slide controls on the base of the vibrator. One slide control is for the the spinning pearls in the dildo and the other is for the intensity of vibration for the fish tail. You have both rockin and rollin or just one. It's your choice and easy to do.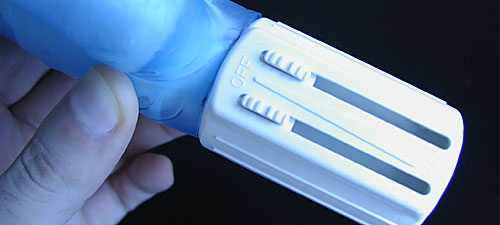 At the time of use, I didn't feel like the dildo was too big for me. I like the feeling of fulfillment and the more excited I get, the more I desire. The head is a little larger, but I did have a lot of foreplay before penetration, so I was aroused enough and I would recommend that as well. Otherwise, it may feel like a bit to take in.
I found that the rotating pearls lined up well near and within my vaginal opening which provides an additional form of stimulation. The older I get, the more I realize how pleasurably sensitive that area is.
The fish tail clitoral stimulator is powerful, I couldn't use it on high, I think I was at a mid-level speed. I have the cheaper Jack Rabbit Vibrator and it's bunny ears did not feel as powerful. The base of the clit stimulator has some flexibility to it, so I could see how it would adjust to fall against most clits. (some complaints with this type of vibe is that the clit stimulator doesn't lay against the clit, doesn't line up) This one did for me.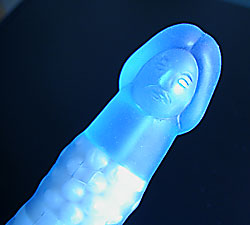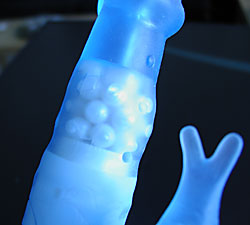 While the pearls rotate divinely in the shaft, I was expecting the top of the dildo to really spin and twist and when it didn't I was really disappointed, however, when I contacted Babeland.com they let me know that mine wasn't working properly and offered to exchange it. So if for some reason, the head doesn't spin and twist, let them know that you've got a dud because you want this vibe in full effect. It's like a roller coaster ride. The head of the dildo has a serious twisting motion on it that should hit all your inner lady parts.
The plastic battery and control compartment doesn't feel filmsy at all. The slide controls have ridges on them so if you're all lubed up, your fingers won't slide off the controls. I was still able to easily change settings. Once you turn it off, the slide controls click into place so you don't have to worry about it accidentally turning on when you don't want it to.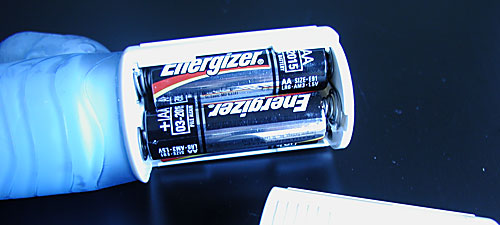 Annoying Part
While this Japanese vibrator has a quieter Japanese motor in it than the more affordable Rabbit style Vibrators, it was still a loud vibe to play with. This wasn't a surprise to me, it's the nature of this kind of toy, since there's so much for this vibrator to do with the pearls rotating and hitting each other in the shaft and the fish that buzzes like crazy. So if you're looking for quiet and discreet, this is not it.
Cleaning
This vibe is made of soft vinyl so it's not the easiest vibe to clean, especially with the battery compartment living on the bottom of the unit. However, if you have baby wipes, those work well. Just wipe it down right after use, so you don't get a caked on mess to deal with. I learned the hard way years ago. You can also clean it with a soapy washcloth and then wipe down with a damp washcloth, be careful not to get the base wet. Soft vinyl is somewhat porous, so you need to take good care of it in order for it to last you a while.
Overall Thoughts
Wow! The Koi Vibrator was as good and as powerful as expected. It brought me to orgasm almost immediately. The shaft is a good thickness, not too big, not too small for me. The clitoral stimulator is crazy powerful, I climaxed with it on mid speed. Unfortunately, it's not quiet, it's rather loud with the pearls rotating in the shaft and the uber powerful clitoral stimulator. The flexible clit stimulator should be able to adjust to most body types and lay against the clit. With the 2 separate easy to work controls, I had a great time with this vibe. And the spinning head of the dildo should give you something to talk about as well. It's also made of soft vinyl and not as porous as rubber/jelly vibes, so it's also safer to use and can be kept cleaner.
At the time of writing, this vibe is $82.00. Do I think it's worth the extra bucks, compared to the cheaper brands out there? Yes, I feel it's a well made item even though I originally received a defective, those things can happen with ANY company. Everything about it feels secure, it feels like a well made item, all the switches and controls feel secure, nothing will turn on or off without you making it happen and with proper care the Koi Vibrator can last a long time.
Size: Entire Unit from top to bottom approx. 9″ long. The shaft measures approx.
6″ long. It's curved, but the fish clit stimulator is about 3″ long. The head at its widest point measures approx. 5″ around.
Power Supply:3 "AA" Batteries (not included)
Water Friendly: Not at all.
Extras: None
Where It's Available: