Ultimate Guide to Anal Sex For Women
Ultimate Guide to Anal Sex For Women is available to buy here or Watch Online
Initial Thoughts
This movie is great if you want to know about anal sex and if you want to watch a lot of anal sex. As you can see from the list of stars, it contains a butt load (no pun intended) of experienced anal women. And that's what's really cool about it. It's a Batman, John Stagliano, flick that's shot in the gonzo style, so you get up close and personal with the porn stars. All the porn stars are attending Tristan Taormino's workshop on anal sex for women. They talk openly about the different myths that they've heard about anal sex.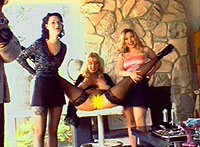 What You're in For
I'm not going to lie, this is not just an instructional video, it is a total porn flick. The anal scenes are no-holds-barred, but there is valuable information contained within for anyone that wants to know about anal sex because unlike vaginal sex, the rectum has very fragile membranes and does not produce it's own lubrication. So if you don't take care when engaging in this type of play, someone can get injured.
The movie begins with Tristan Taormino trying to convince John Stagliano to produce her video. Now, Butt man videos are usually pretty hardcore and this was a little bit different for him. The deal is that if Tristan can get something in Ruby's ass, because as he says, he's never been able to get anything in there, then he'll do it. So they get Ruby down to Butt man's office and tell her the story. Ruby agrees to give it a shot, so Tristan opens up her bag of apparatus: vibrators, dildos, lube, latex gloves. You name she's got it in there. All the shots are up close and personal so you can see the technique and before you know it, Ruby's taking it in the ass. Success for Tristan!
I believe the rest of the movie is taped at Butt man's house. Tristan starts the workshop discussing all the different myths that are out there about anal sex. Will I end up in adult diapers? It's the shit spot so you're not supposed to do that. They really thoroughly cover the ignorance's that most people have about anal sex. And Tristan crushes these myths with solid facts, not just opinion. The discussion is very open and honest and everyone is very playful.
Nina Voluteers
After that, Tristan gives her female anatomy lesson. For this she uses Nina Hartley (who wouldn't, Nina has great buns). Anyway, this scene demonstrates how to get a woman aroused enough to begin anal play, how to start by inserting only one finger and that other stimulation, usually of the clit, is also necessary throughout the entire process. She talks with Nina the whole time, finding out what she likes and what she doesn't. Nina shares with everyone the differences between her vaginal, clitoral and anal orgasms. And everything is shot up close, so you really get to see technique!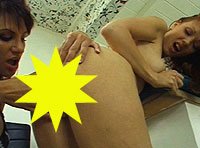 Look at all the anal toys
Tristan Taormino shows the viewers the different toys that are available for anal play. They demonstrate how to insert and remove anal beads and butt plugs. Some butt plugs are totally clear so you can see inside your lover's ass once it's inserted. I thought that was pretty neat. There's all kinds of dildos that can be used. I like the anal beads that they use in this movie. They are jelly beads that are not connected with a string, which can be very rough to the delicate membranes in the rectum. The beads are connected by a tubular section of the same material, making it completely smooth and safe to use. And all the toys that are used have some sort of flared base at the end so it does not get accidentally pulled into the anal cavity. Viewers not only see great anal sex, but hear how important communication is, even when using toys. In one scene, the guy keeps asking the girl if she wants each bead before inserting it. Never assume you can just go for it, always ask and you constantly see that throughout this flick.
Sex Scenes
By watching all the different combinations of people having anal sex: 1 girl with one guy, 2 girls with 1 guy, and 2 girls together, you can see that it really isn't a messy activity. To take things even further, Chloe(the anal queen) and Ernest Greene demonstrate how to give and receive an enema. Ernest explains everything he is doing: how much water he is using, the water temperature, what kind of bag he's using and why. And Chloe shares with us all the different sensations that she feels while receiving an enema. It's a very frank discussion, but honest and that's what we like. And don't worry, if you don't want to see the water actually shoot out of her ass, you won't, that has been edited out in the U.S version.
Favorite Bit
Tristan Taormino's Ultimate Guide to Anal Sex for Women introduced me to the wonderfulness of Chloe. Just having her in this video demonstrating and sharing her knowledge on the subject is more than worth the price of the video. Not only is she very knowledgeable and totally experienced in having anal sex, watching her have an orgasm is the most powerfully, intense thing I have every seen. And what's so great is she's real, she's not acting. I've seen and read many interviews and she's real. She's totally in her element in this flick. Chloe does have one orgasm after another, which may make some women feel a little inadequate, but remember, when it comes down to it, this is a porn flick, so there has to be lots of orgasms. But it shows you how intense anal sex can really be, if you open yourself up to it.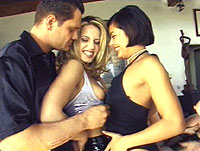 Holy Huge Orgy
Ultimate Guide to Anal Sex For Women ends with a huge orgy in which Tristan is the star. It's the first time she's ever been involved in a sex scene in an adult film. It's quite an active scene. If you purchase the DVD, you'll see in the special features that Tristan actually writes out what she wants everyone to do to her and when. It's very amusing, she dotted every "I" and crossed every "T" for this movie.
Overall Thoughts
The Ultimate Guide to Anal Sex for Women is totally educational, arousing and entertaining. The sex scenes are hot; they can run a little long, but it's good, because the viewer gets to see all the different positions that are possible when engaging in anal sex. Most porn flicks can give you some ideas on positions and techniques, but when it comes to anal sex, most of them are very misleading. All you see and hear about in this video is how important it is to lube up that ass hole before even thinking about playing with it. And that's what I love about Tristan Taormino's Ultimate Guide to Anal Sex for Women, it's porn stars giving you real information and showing you what a really great experience anal sex can be. This movie is an absolute must for everyone, men or women, that are interested in having anal sex with a woman.
Starring: Syndee Steele, Nacho Vidal, Jasmine Aloha, Chandler, Inari Vachs, Jewel Valmont, Chloe Nicole, Nina Hartley, Ruby, Tristan Taormino
Studio: Evil Angel
Director: John Stagliano
Total Running Time: 3 hours 50 minutes
Where It's Available: