Female Ejaculation – A Complete Guide
Female Ejaculation – A Complete Guide is available to buy here or Watch Online
The Hype
Everything you wanted to know about female ejaculation, including vaginal exercises, best positions, proper angles, finger techniques and more! Learn by watching extremely graphic and detailed demonstrations featuring the world's sexiest women and your host, Seymore Butts.
Initial Thoughts
I know that Seymore Butts is a gonzo and amateur style pornographer so I was definitely interested in seeing what kind of instructional video he could put out on the most controversial topic.
What You're In For
Hosted by Seymore Butts himself, you're taken through a lesson in the female anatomy, exercises for men to strengthen their hands and fingers, exercises for women to strengthen their kegel muscles and specific techniques and demonstrations on how to stimulate the g-spot. Even though this is an instructional video, it's no less graphic than I expected. The sex is raunchy and hardcore. It's mostly hetero and you encounter lots of big gaping holes, which is what Seymore Butts is known for. There's lots of graphic closeups of vaginas and asses and women squirting buckets of water all over their lovers. There's some lesbian action, anal sex, oral delights and the off-the-cuff atomosphere you'd expect from a gonzo style video.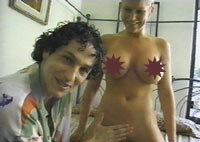 Who's this video for
That was one question I had when I picked this video to view. I figured if it was Seymore Butts, it would be more for men, but if you're a woman that's into the hardcore, graphic, gonzo style pornos, this could be a delight. So, yes, this video is not for the faint of heart. If you want instructional with softcore demonstrations, this is not it.
Most Annoying Bits
Hosted by Seymore Butts, the camera follows him around his house as he explains what the video's about and then his "mom" calls and that's supposed to be a bit…UH, NO. Then magically as he starts talking about kegel exercises, Tina Cheri just happens to show up…UMM, Yuck! And then after they show the kegel exercises Herschel Savage just happens to ring the doorbell because he thought he and Seymore were supposed to go to lunch. And they stand by the door talking about kegel exercises and how great a tight pussy feels for a guy…Whatever, let's get to the squirting. And then later, Alisha Klass comes out of the bathroom just as Seymore was going to start to explain techniques for stimulating the g-spot. Everyone just seemed to magically show up. So I'm left with the question, "Why? Why didn't he just get the cast together and make it happen, instead of being so hokey about it?" Trying to make this storyline, was nothing less than annoying.
Most Surprising Bit
This video was actually filled with educational material! Seymore and the girls demonstrated everything for you. After watching this video, there should be no question as to how to stimulate the g-spot. Seymore Butts demonstrates for the camera how he's moving his hands and fingers in the vagina so the viewer knows exactly what's going on. I was impressed with the total coverage of the subject. He didn't leave too many details out.
Bit That Made Me Go…Eewww
Hershel Savage is fucking Tina Cheri in the ass without a condom. That sucks on it's own, but then, I swear there were no camera cuts, after Tina rides Hershel reverse cowgirl, taking it in the ass, she sucks his cock. I know she probably gave herself an enema, but come on. Yuck.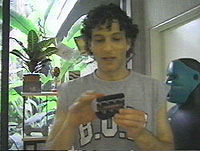 Most Confusing Scene
When Hershel Savage is fucking Tina Cheri he makes her cum 3 times and she doesn't squirt at all. What?! And they're focusing so much on anal sex and Tina's big gaping hole. Hello? The video's called The Complete Guide to Female Ejaculation so what's with the anal sex and no squirting. All you heard was Herschel Savage commenting, in his best molester voice, at how tight Tina's pussy was, but you can smell the bullshit. The sex is hot, but I was wondering if Tina was a squirter or not. When you have a viewing agenda, you'll feel rather unfulfilled in the beginning.
Most Rockin Bit
When Alisha Klass enters, that's where the real shit begins. This was my first exposure to her and let's just say, I'm very sorry to hear that she's not in the biz anymore, she radiates sexiness. Alisha and Seymore demonstrate the different positions and techniques that you can use to stimulate the g-spot, which is the most educational part. He gives the guy's view on how to do it and she periodically comments on how each technique feels and what works best for her, good information for women.
Favorite Bit
Seymore is stimulating Alisha in the doggie style position, as she's repositioning to lay on her back she queefs, right on camera! It's great, then they both take the time to mention that this is natural, especially in the doggie style position. They also stress that it's nothing to be ashamed of and nothing to be made fun of and stress the importance of the air coming out. So kudos to them for taking the time to discuss and double kudos to Alisha for letting it go right on camera. They also discuss how it's important for couples to just have fun just trying this type of stimualtion and that if ejaculation doesn't happen, no worries. They do get the message across that pleasure is the key. It shouldn't be a mission.
Great Quote
Hershel Savage to Tina Cheri about her well exercised Kegels before he fucks her…"You're gonna hurt my cock."
Lots of squirting is yours
Once you get past the initial scene with Tina, Seymore and Herschel the female ejaculation is plentiful. There's a whole section of squirting scene after squirting scene in which everyone gets soaked. Seymore gets it all over his face and hair, women are lapping it up from the ladies who are releasing it like a fountain. Plus Alisha lets a bucket load of it squirt all over Seymore. His shirt gets wet, his hair, his face, he's practically drowning in it.
Overall Thoughts
Since this video is presented and advertised as an instructional type video, I viewed it with that in mind. Could someone learn anything and get really aroused at the same time? A good instructional sex video will have both those aspects. The information is direct, detailed and demonstrated, so you can definitely learn something from it. The sex between Herschel and Tina is filthy. Alisha just oozes sexiness making the demonstration scenes hot as hell. If you're looking to learn something from viewing, you should have some techniques to add to your arsenal. If you're looking for pure squirting porn, you may want to pass this one by. Even though the sex is hot when you get it, the focus is more on information. I think the video would've been awesome if he would've left out the cheesy annoying storyline with everyone magically appearing on cue. I just couldn't get past that stuff. It was just so cheesy. I'm not a squirter myself, but after watching I do want to give it a try!
Starring: Tina Cheri, Alisha Klass, Montana Gunn, Herschel Savage, Seymore Butts, with Ava Vincent, Taylor Hayes, Shanna McCullough, Mary Jane, Allysin Embers, Jordan McKnight and more…
Director: Seymore Butts
Studio: Seymore Butts
Running Time: 82 minutes
Where It's Available: