Dream Quest – Starring Jenna Jameson
Dream Quest – Starring Jenna Jameson is available to buy here or Watch Online
Basic Storyline
Jenna is just a regular girl who has been called upon to save fantasy for the rest of the world. By entering into this fantasy world, she comes across all kinds of characters: fairies, trolls, witches, warlocks and the beast man himself, Vladimir, (excellently played by Hershel Savage). After a long journey and meeting all these strange characters and having the ultimate sexual experiences of her life, she's captured by the evil Vladimir who holds fantasy hostage. It is Jenna's job to play him just right in order to get fantasy back for the world.
Number of Sex Scenes
Dream Quest contains a total of 8 sex scenes consisting of couple sex, threesome (Jenna, Asia and Evan), (Jenna, Stephanie Swift and Felecia) and (Randy Spears, Johnni Black and Amber Michaels); lesbian, anal sex, dildo play, masturbation and oral sex.
Hottest Sex Scenes
Dream Quest is loaded with so many hot sex scenes it's difficult for me to select the best. But here we go.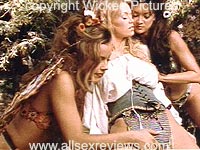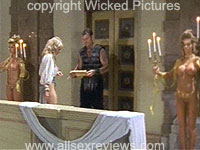 The threesome with Jenna Jameson, Stephanie Swift and Felecia kicks ass! All of them have hot bodies that are all glittered up. From watching this scene alone, you know Jenna's great in the sack. She gets totally into pleasuring Stephanie and Felecia and they her. My panties were soaked after Jenna got down on all fours, put her head on the ground and stuck her ass up in the air and double penetrated herself with her fingers. Rock on!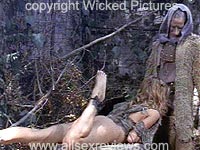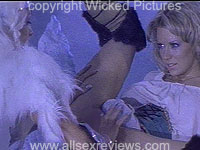 The scene with Alexa, the ice woman, and Jenna fucking each other with glass dildos also kicked some serious tail.
Johnni Black and Amber Michaels totally lapped up Randy Spears in their sex scene. It's so hot when two women suck a guy off. Sharing in giving Randy pleasure gave me pleasure, but then he bent them both over and through them a bang, I loved it.
DVD Extras
Holy Cow are there extras: 2 bonus scenes not on the VHS release, behind the scenes video, special effects reel, deleted scenes, a commentary by director Brad Armstrong, a photo gallery of stills from the movie, clips from the AVN awards show, trailers, stereo sound, interactive menus, parental lock protection and it's DVD ROM compatible.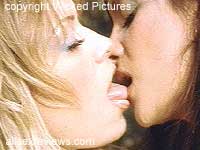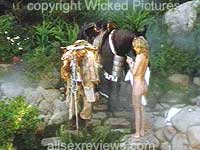 Overall Thoughts of Dream Quest
This is, by far, one of the best adult movies I've seen in a long time. The sex scenes in Dream Quest give new meaning to the word HOT! The camera work and direction are great. The close-up shots aren't raunchy and typical of adult movies, there's something so sexy about them. There's some really great dirty talk in almost all the scenes too, which adds to the excitement. And the talk is really exciting, not cheesy and perverse.
I was impressed with the performance of all the actors and actresses. Some of them were still able to perform miraculously, even though they had a ton of makeup and costuming on. And even though some of the characters were supposed to be ugly and unattractive, it in no way ruined the steam in the sex scenes.
All in all, this movie rocks! It is a great movie for couples to watch together and Jenna Jameson fans will love it, she's in the whole thing!. My boyfriend and I have watched it over and over again and it's just as enjoyable and arousing as the first time. Dream Quest feels like a real movie that had the ultimate in sex scenes. This video is a must own for everyone! Way to go, Wicked Pictures!
Starring: Jenna Jameson, Inari Vachs, Stephanie Swift, Terri Starr, Syndee Steele, Asia Carrera, Temptress, Jessica Drake,Devin Wolf, Johnni Black, Felecia, Anthony Crane, Dale DaBone, Evan Stone, Amber Michaels, Brad Armstrong and Randy Spears
Studio: Wicked Pictures
Director: Brad Armstrong
Where It's Available: