Clone-a-Willy Vibrator Kit
Clone-a-Willy Vibrator Kit is available to buy here
The Hype
(from the website) Clone A Willy is a complete kit that allows any man to perfectly copy his own penis in super realistic rubber. It's safe, easy, and lots of fun. Designed by a Doctor, each kit comes with easy to follow instructions on how to mold a penis and how to cast a penis, and includes everything necessary to produce an EXACT rubber copy of any penis! These are the same top quality materials being used throughout Hollywood to create amazing props and special effects.
Initial impressions
My boyfriend and I are always looking for interesting, sexy and fun things to do, so this seemed to fit the bill. I did have some concerns though because I'm not very crafty.
Preparations for Cloning
We BOTH read through ALL the instructions and important notes, which is a quick and easy read.  We laid all the materials out on our kitchen counter and popped in a porno. (We can see our TV in the living room from our kitchen)
A couple of the steps involve working within a short time period, so we wanted to make sure that everything was ready to go. We cut open the bag of molding powder and leaned it upright against a bowl so that it would be easily available when we needed it…no fumbling. My boyfriend obtained his cock ring for when the molding process actually happens. It helped him keep a stronger and longer erection. I set my digital kitchen timer to 2 minutes so that all I had to do later was press the start button. Once everything was ready to go, I ran upstairs and put on a sexy outfit so that my appearance was visually stimulating…and I believe it was!
Steps to Cloning
The first step is to properly size that tube that the man will be sticking his penis in for the molding process. If the tube is too long, the mold won't be made properly. So I happily helped give my boyfriend an erection with some oral and manual lovin'.  Once he got fully erect put the tube, closed end, against his body and marked with a marker where the head of his penis reached. This is the part of the tube we needed to cut. Since this part takes a little while the guy really shouldn't try to hold his erection until the molding step.  It would just be too long and I think the couple would get discouraged. So my boyfriend relaxed and let himself go flaccid.
We cut the tube, put some duck tape around the cut edge of the tube like the directions said, to make it smooth because that's the part that's going to go up against his body later. Once that was done, we finalized our game plan for phase two because this is the important part.
I turned on the water in the sink to get it to 98 degrees, as per the instructions, before you mix it with the molding powder. This part is also no sweat because the Clone-a-Willy folks provide you with a handy thermometer. While I was leaning over the sink waiting for the water to reach 98 degrees, my boyfriend was behind me enjoying the view of me in my thong. There was also some dirty talking and porn on the TV to keep everything sexy. Once the water hit 98 degrees, I kept it running.
Now this is the part where the guy needs to get really hard. I gave him some more oral and manual lovin' to get him real hard.  Once he got as hard as he was going to get without climaxing, he put on his cock ring.  At this point my boyfriend let his hands wander around me while I quickly rechecked the temp of the water, filled the measuring cup, poured it into the mixing bowl, added the molding powder, started the timer and began mixing with a spatula. I didn't' have to mix real hard at all, just mixed until it was mixed. It was still lumpy but it was supposed to be, according to the instructions, and I carefully poured the mixture into the tube. I gave my boyfriend a quick little oral lovin and he took the tube and stuck his penis inside. I set the timer for two minutes as he held the tube against his body with one hand and fondled me with the other.
It's important that he stay erect for these two minutes, but he can't move his penis, so other stimulation is important at this time.  I pulled out all the tricks…the filthy talk, the passionate kisses. Being a team player, I jumped up on the kitchen counter and put on a masturbation show for him, more passionate kisses, I think I even bit his neck a few times…whatever gets him most excited. With all that going on, the two minutes passed quickly and smoothly. Since things were still going so well, we decided to reset the timer for another minutes to make sure that we got a good mold.
When the timer went off, he carefully pulled his penis out and we had a mold! Of course he had some of it stuck on his cock ring and on his skin, but it very easily peeled off. We removed the cock ring, cleaned him off and since you can't touch the mold for a few hours…we had sex!
The next morning we mixed and poured the liquid rubber into the mold, inserted the vibrator into the center of the mixture and let it sit for 24 hours.  24 hours later, we pulled out the dildo and it was finished!
The Results
Our Clone-a-Willy dildo came out really well. We're very happy with it! The detailing of it is amazing! You can see the veins and even those tiny bumps on the underside of the head of the penis showed up perfectly. The texture of the skin on the head came through as well. We were really impressed! There's one small section of our dildo that's a little thin, and you can kind of see the vibrator through it, but it's not a big deal. The vibrator is still very securely inside the dildo. I also think we cut the tube a little short so it's not quite as long . All in all we had a fun, sexy, crafty evening.
What I Liked
The Clone-a-Willy kit comes with just about everything you need. We didn't have to go to the store and purchase anything extra. Once we opened the kit, we were all set to go.  The included vibrator initially appears to be a cheap one, but it's actually very powerful…and I need power.  It's powerful enough to feel strong even through the dildo material, a major plus.
The process was much easier than I thought it would be. Yes, there are a lot of steps and it sounds rather involved but I think our experience worked out well for a couple of reasons. We read and reread the instructions. We planned out how we were going to go about it all, talking it out. We didn't rush, trying to do it all in one shot and with one erection. Most importantly, we took our time and had fun with it.
The Tricky Part
Pulling the dildo out of the mold was a little tricky. When we made the mold we didn't realize that my boyfriend's penis was not in the dead center of the tube, so one small section of the mold was very thin. When we poured the rubber solution in, it also filled in the space between the molding and the tube causing the actual dildo to stick to the tube, not the mold. We worked on pulling it out like the directions said, but we didn't want to ruin or break it. My boyfriend decided to very carefully cut the tubing, long ways, on the side where the molding was thin. After that we were able to pull the dildo out.
The Clean Up
The clean up afterwards was not bad at all. We got a good amount of molding liquid on the floor because when the man puts his penis in the tube,  the excess liquid seeps out and that excess falls onto the floor. So do this over your tiled kitchen or bathroom floor, not over a rug. After the molding process was finished the molding liquid turned into a gel that I was able to pick right up off the floor and throw away. No staining, no stickiness, nothing.
Even the rubber and liquid skin mix was a piece of cake to clean.  It's still a liquid when you have to clean it so you just wipe it away and into the garbage. You can either throw away the cup that you used for that part or clean it real good with dishwashing detergent. The instructions suggest a large paper cup. We used an extra plastic measuring cup that we had lying around.
The bottom line, I didn't scrub anything…just peeled up and wiped away.
Some Tips
That morning my boyfriend decided to shave his entire pubic area and testicles. He thought that if there wasn't any hair for the molding gel to stick to, it would be easier to do and clean up. My boy was spot on with that one!
Make sure you don't try to over mix the molding powder in the beginning. It's supposed to be lumpy. If you mix it too much, it will start to harden before you pour it in the tube. We also found it was best to mix the molding powder and water with a spatula instead of the stick that comes with the kit. It seems as though that stick is really for mixing the liquid rubber and liquid skin together in the next step. We thought the stick also worked well in removing both from their jars because they're a thick consistency.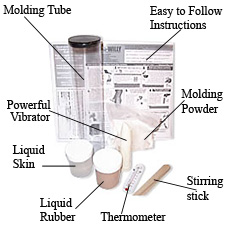 The Clone-a-Willy is not for every couple. I hope my review has detailed the process enough that you and your lover can understand what's involved. If you tend to work well as a team, then you can do this. If you generally don't work well as team then you may not find this as fun as my boyfriend and I did.
It's also helpful to bring a sense of humor with you. While there are times where you need to kick the sexiness up to high gear for very brief periods, there are other times that you have to concentrate on what you're doing. The more you can be playful and relaxed about doing it, the better your experience will be.
Another thing we tried not to do was use the ugly fluorescent light in the kitchen.  We had the light over our stove on and a couple of table top lamps lit on our kitchen counter that provided mood lighting. It gave us enough light to see what we had to do and provided great ambiance. So you may want reconfigure your lighting before you even get started.
Overall Thoughts
This is a great item. It's easy to use. It comes with everything you need to do it. Just make sure you read all the instructions and set up all your items before you get started. As long as you and your partner work well as a team and can both bring a playful attitude along, you can have an enjoyable night that results in a really amazing replica of the man's penis. It's something you should be able to keep for the rest of your lives. I've actually sent one to a friend of mine; I can't wait to hear how her experience goes. The Clone-a-Willy folks also offer a wax kit, a chocolate kit and a Clone-A-Pussy kit. I can't wait to try all of those.
Kit Includes:
Custom Molding Tube
Specially Timed Molding Gel
Liquid Rubber/Liquid Skin Mix
Thermometer
Stirring Stick
High Powered Vibrator
Easy to Follow, Step by Step Instructions
Where It's Available: