Boink: College Sex by the People Having It
Boink: College Sex by the People Having It is available to buy here
The Hype
From the back cover… Don't know much about…sex? Get ready for some hot and heavy schooling! When a group of undergrads from Boston University decided to publish a college sex magazine called Boink, they had no idea it would become a sizzling sensation on campuses across the country. Now these daring editors present Boink for the first time in book form–the definitive college sex blowout. These full-color, beautifully designed pages are filled with never-before-published stories, graphic confessions, dorm-room advice, and no-holds-barred nude pictures of actual students from major universities. From lusty encounters with nubile coeds to the titillating issue of virginity (or lack thereof) to reckless abandon with multiple partners, these edgy, sexy and uncensored stories vividly detail where the real college education happens. Matriculation starts with the first page. You're about to major (or double major) in… Boink Everything you always wanted to know about college sex – from the people who are actually having it.
What to Expect
Boink contains a combination of 22 essays, stories and 1 poem focusing on the sex lives of college students. The entries are separated by erotic photos of actual students (men and women). There's no fake breasts or overly made up, anorexic models or guys too built or bulked up with massively, huge cocks. The photos are artistic and erotic, but NOT pornographic. Everything is done in good taste with just enough of sexiness to keep you flipping through the pages. You'll encounter lesbian, heterosexual couple and single male photo sets. Stories and essays tackle topics such as homosexuality, bi-sexuality, virginity, older woman/younger man relationship, cheating, theorizing about horny guys, difficult relationships, threesomes, friends with benefits, casual sex, depression and sexual curiosity. Entries are anywhere from 2 pages to 10 pages in length.
My Favorite Stories/Essays
The Mating Rituals of Choches and Sorostitutes
An Anthropological Essay by Julianna
It's been several years…okay 11 years since I graduated from college, but reading this essay totally brought me back. Julianna gives us the down the dirty about these two creatures that have existed at college for decades. The studly, I-can-get-whatever-chick-I-want guy and the slutty looking, big tease, sorority girls that plan on giving nothing away, but getting free drinks. Julianna's description is articulate with a heavy dose of sarcasm and humor. I found myself laughing out loud and then running upstairs to read the whole thing over again out loud to my boyfriend, who also found it funny as well. I still see these same creatures that are not college students, out in bars…and it's an even sadder display to see that these 30 somethings haven't moved past the silliness of their growing years of college. A very enjoyable read!
Virginity, or Lack Thereof

by Chris
I was totally touched by Chris' story of his struggle with still being a virgin upon entering college. This is something that I've been asked about many times on AllSexAdvice.com and his story should be read by all virgins feeling the pressure to just have sex and get the first time over with. It really resonated with me.
Two Drinks Away
by Elizabeth
This story was well told. Although there wasn't a ton of graphically, described sex in it, there was enough of sexual tension and the main character of the story, Julie, was filthy and slutty and that was hot for the story. She would be blowing guys in the bathroom, while making out with her friend Allison, then by the end of the story, they add another woman, Nikki, to the mix. There's lots of secret, sexual desire described in this story that was really kind of hot…and the threesome, turned two-some at the end made me feel the need to reach into my panties.
The Quiet Ones
by Kristen
I found this story exciting…especially the graphic description of the sex, hot stuff…but what really got me in this story was the surprise ending. Very unexpected, it made me laugh out loud!
Surprisingly Exciting Story/Essay
Coach
by Aaron
A wonderful story about a guy in a heterosexual relationship that comes to the final realization that he's gay. This story shocked mebecause I'm not usually turned on by gay porn/erotica but Coach really got to me. The details of how Aaron felt during his unexpected excitement by his coach's touch. His strong desire really pulled me in. The sexual tension between the two really built up to orgasmic release. I just had to touch myself after this one.
Story/Essay that Was Difficult to Get Through
Breaking Bottles
by Gary
This story had a slow start and I just couldn't get into it, never mind get excited by it. I think there was a little too much drama for me in the beginning, that I felt the need to move on without finishing it.
Who's This Book For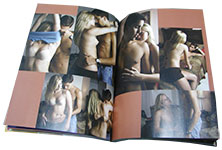 I feel I need to make this clear due to some of the marketing of this book. Even though some of the entries got me hot, I don't consider this graphic erotica or pornography. It walks a fine line and has definitely fallen on the side of soft-core so if you're looking for graphic, written pornography, this isn't it. I also feel that women will appreciate this book more than men because of the in depth stories and essays along with soft-core photos. However, I still recommend it to men because there are some great reads in it.
Overall Thoughts
This is a very well put together book. I can tell that the editors took great love and care in selecting stories, photos and illustrations for this coffee table style book. I couldn't help but to get pulled into most of the stories…they pull on your heart, your loins and your mind all at the same time. The essays are honest, insightful and truly touching. Even the fictional stories feel like they've been pulled from a real life experience or emotion. The photos are erotic, artful, playful and real. From the moment I picked this book up, I found it difficult to put down. I found myself excited, aroused, angry, surprised and even giggling. I saw friends for dinner that night and couldn't help but to share the things that I read. The book is a quality item, printed on coated stock paper through and through. The only thing that bothered me was it's size. It's a soft-bound book but larger than a paper back, measuring at 7" wide by 9" long, so it's not a book that you can discreetly read and carry around. It's a real coffee table book and one should show this tome proudly. At the time of writing, this book is $17.99, not bad for the quality printing and content that you get. I highly recommend this book to all college students because they can find passages and stories to help them through a very confusing period of growth in their lives. I wish something like this was around when I was in college. I also think this book is an interesting read for those out of college. It's not a just a book about sex, it's about relationships too and how we're all to one extent or another, screwed up in them and it's okay.
Vital Stats
Authors: Justin, Eva, Julianna, Chris, Elizabeth, Juliet, Stephanie Nicole, Alex, Jason, Evan, Aaron, Rene-Mara, Gary, Vanessa, Jordan, Samantha, Rob, Kristen, Nikki, Risa, Ariel, Shona and Daniel
Editors: Christopher Anderson, Alecia Oleyourryk and Vanessa White
Publisher: Grand Central Publishing / Hachette Book Group USA
Format: Softbound
# of Pages: 261
Erotic or Self-Help: Erotic
Easy or Difficult Read: Easy
Where It's Available:
Order Boink: College Sex by the People Having It from Powells