Blue Movie, Starring Jenna Jameson
Blue Movie, Starring Jenna Jameson is available to buy here or Watch Online
Number of sex scenes
There are a total of 9 sex scenes containing heterosexual sex, lesbian sex, oral sex, lesbian threesome and anal sex.
Basic Storyline
Jenna Jameson is a fresh-out-of college reporter working for a hardass tabloid editor trying to dig up real dirt on the director of the year, Mr. Bents, played by Stephan St. Croix. Rumors are saying that there's some very odd shit going at Mr. Bent's studio and Jenna's editor wants her to get the nastiest dirt she can find for their next issue. When Jenna arrives at the studio, it becomes a lifetime experience that she, Jeanna Fine and Stephan St. Croix will never forget. Blue Movie shows Jenna's experiences on the set during the filming of Mr. Bent, the cross dressing director's, new movie, "The Legend of the Golden Oyster." The storyline sounds like a drama, but it's really rather comical and wacky. Stephan St. Croix is not-to-be-missed as the confused cross dressing adult film director.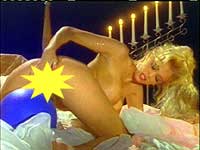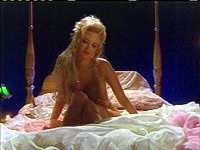 Hottest Sex Scenes
The hottest scene is most definitely the lesbian threesome with Jenna Jameson, Jeanna Fine and Lana Sands. Jenna and Jeanna make the room boiling hot. Jeanna with her nasty talk and Jenna with her sexy squeaks makes this scene totyally sizzling. Jeanna Fine and Lana Sands ravage every inch of Jenna's body. They leave no area untouched or unpleasured. And Jenna is totally into it. They just can't get enough of her sweet pussy.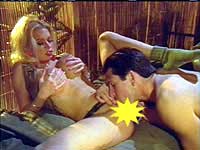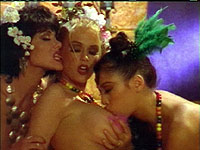 The opening scene with Stephan St. Croix and Rebecca Lord is pretty hot too. Rebecca plays Stephan's therapist who is helping him sort through his confused sexuality. She seduces him and makes him experience a woman's pussy. It's a great oral sex scene and Rebecca's accent is among the sexiest I've heard.
Jenna's masturbation dream sequence is short, but sizzling. She's all glittered up rubbing her clit and masturbating on this blue ball, getting herself off. Jenna's orgasms are nothing short of intense and damn exciting to watch.
DVD Extras
It contains outtakes from the filming of Blue Movie, which are very funny; trailers for other wicked titles, a slide show and behind the scenes photos.
Overall Thoughts
Blue Movie has very clever writing for a porn. The actor who plays Mrs.Schwartzkoff, the tabloid editor is hysterical. And Stephan St. Croix rocks playing the confused, cross dressing, director. But when you're watching an adult movie for sex scenes to get you aroused, creative writing is not on the top of your list.
Most of the sex scenes felt like the run of the mill porn. I even found myself fast forwarding through some of them except the hot ones that I mentioned above. And Jenna Jameson, the featured star, doesn't even have sex in the movie until you're half way through it. All in all, it wasn't particurally arousing. Just your run of the mill sex.
Starring: Jenna Jameson, Jeanna Fine, Tera Heart, Rebecca Lord, Dallas, Stephan St. Croix, Jordan St. James, Lana Sands, Alex Sanders and Tony Tedeschi
Studio: Wicked Pictures/Digital Playground
Director: Michael Zen
Running Time: 65 Minutes
Where It's Available: