This Ain't the Munsters XXX
This Ain't the Munsters XXX is available to buy here or Watch Online
The Hype
Snippets From Press Kit…It's time to clear out the all the cobwebs and see what's really going on down at the Munster house! This film took porn parodies to the next level with director Anton Slayer's over-the-top attention to detail. From a cemetery scene to Grandpa's laboratory to The Munsters family living room, they were phenomenal and true to the spirit of this classic horror comedy sitcom!…
…This Ain' t the Munsters XXX features an all-star cast, including Lee Stone as Herman, Roxy Deville as Lily, Shawna Lenee as Marilyn, Trent Soluri as Eddie and Gavin Wells as Grandpa. All the members of this pseudo Munsters family were fantastically true to form due to the extensive makeup job and costume design…
"…This Ain' t the Munsters XXX is filled with really fun characters, and the cast had a blast re-creating them for the adult world." – Jeff Thill, Director of Video Operations, Hustler
Initial Thoughts
I remember tuning in to The Munsters when I was young, so when Hustler contacted me to review this, I was excited. I wanted to see how one would turn this wholesome gothic family into total sexiness.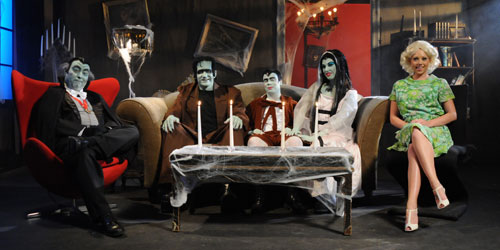 What You're In For
This Ain' t the Munsters XXX is a porn parody of The Munsters TV show. You'll see all your favorite characters getting naughty. The movie contains 4 heterosexual scenes with intercourse, blow jobs, cunnilingus, dirty talk, 1 FMF threesome scene with blow jobs, intercourse, a bit of lady on lady pussy licking and jizz mouth swapping and 1 female masturbation scene with fingers and glass dildo.
What I Liked
The cast was excellent! Each actor played their part very well and convinced me that I was watching the true characters from my childhood in some very naughty acts. Lee Stone got Herman Munster down all the way to his silly laugh. Shawna Lenee stayed in character as the innocent and sweet Marilyn while talking dirty during her scene. Even Trent Soluri as Eddie, growled and howled like a werewolf during his threesome. Everyone played it very campy, it was enjoyable.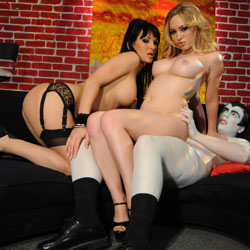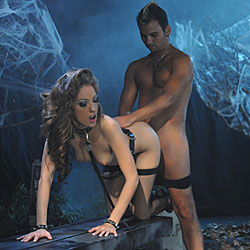 Hottest / Favorite Scene
Unfortunately, the scene I found the hottest was not one starring one of the Munster characters it was the scene featuring Jenna Haze and Voodoo as a young Punk couple having sex in the cemetery. Jenna's got some seriously sexy hip moves and gyrations during sex. She really gets into fucking Voodoo. Plus, she's got some serious filthy talk to add to it, which always gets my panties wet. That's how I know the talk is not just dirty, but filthy and I love the filthy talk. There's this moment when Jenna's fucking Voodoo on top and she leans over and takes total control with her hips. It's as if her pussy is just sucking Voodoo's cock in and out of her. It's hot, I loved this scene. I need to see more movies with Jenna Haze.
2nd Favorite Sex Scene
I thoroughly enjoyed Shawna's scene as Marilyn fucking her boyfriend that she hasn't seen in 3 years. As I mentioned above, Shawna stayed in that campy, happy, excited, I want to please my man character the entire time. Even her voice was campy and while I don't consider her sexy talk filthy, I rather liked the stuck in the 60's, good-girl getting dirty talk she did. Shawna had several orgasms which was really hot and it ended with a POV type BJ which was smoking too. Shawna and Mick Blue seemed really into each other, making for some rather arousing sex.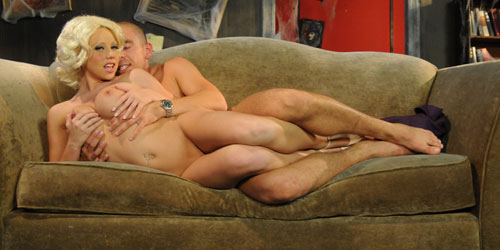 3rd Favorite Sex Scene
This is the scene in which Grandpa magically transforms himself into a sexy doctor (Evan Stone) so he can have sex with the sexy doctor's fiance, played by Whitney Stevens. Evan Stone is a champion. His excitement and his literally taking control of Whitney and tossing her around the office got me all hot and bothered. There's lots of sex on the desk which is naughty, naughty and Evan is one of the sexiest performers out there. The way he threw Whitney around was hot, he gave her a good banging and there was even some filthy talk by the both of them, a major plus!
Scene I Had to Fast Forward Through
The big scene at the end with Herman and Lily. I enjoyed the beginning of it, but it didn't seem to change up too much as time went on, plus Roxy's very loud moans, actually screams, were getting a bit annoying so eventually, I fast forwarded to the end. I felt really bad doing it too.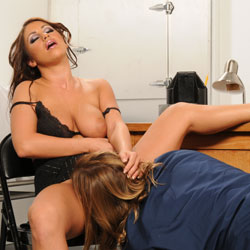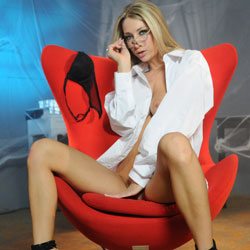 Some Memorable Quotes
During the Eddie Munster FMF Threesome, Victoria Sin almost chants as she's fucking him:
"Come on Eddie Munster, I want you to turn into an animal for us."
"Fuck me like a fucking wolf."
Jenna Haze says to Voodoo while slowly, stroking his cock and looking him right in the eyes:
"You want it nasty in this cemetery?"
Jenna Haze says to Voodoo while he's fucking her doggy style:
"Work that big cock in my tiny little fuck hole."
Disappointing Bit
The FMF threesome with Eddie Munster could have been hot, it started out that way with Victoria Sin as the gothic groupie all into Eddie. She had some great filthy talk during the scene, but she and Aiden Starr didn't really seem that into each other. The whole threesome scene played out like a two-some with 1 extra person finding their place. It was disappointing because if the ladies were really into each other, then it would have been a seriously hot scene because both ladies were really into Trent. It could have been one of my favorites, a shame really.
Extras
This Ain' t the Munsters XXX will be coming with extras, a lot of them: a black and white version of the movie, director's commentary, blooper reel (I usually love those), 2 bonus scenes featuring Jenna Haze and Roxy Deville, behind the scenes and photo gallery. I can't comment on them though because at the time of writing, I've only seen a pre-screener copy which has no extras, just the movie. I will update when I get the final copy.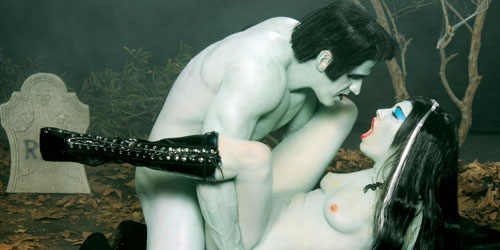 Overall Thoughts on This Ain' t the Munsters XXX
Even though I had a couple of issues, I really enjoyed experiencing This Ain' t the Munsters XXX. I laughed, I felt nostalgic and I touched myself. It left me feeling good and horny, which is what a successful porn is supposed to do. This movie felt like a dirty episode of The Munsters TV show and THAT really added to the naughtiness and perversion of watching it. This Ain' t the Munsters XXX has a solid storyline and the actors were so amazingly talented and convincing at playing the characters that not only were they enjoyable to watch during the sex scenes, but the scenes between the sex were really enjoyable and fun to watch too. I showed a friend of mine the movie real quick, fast forwarding through all the sex scenes, and he got a kick out of it and was impressed with the actors as well.
For only $26 at the time of writing, I think this is something you should have, especially if you were a fan of the TV show. Also, if you don't take your porn and your sex too seriously, this is something you'll enjoy watching and it's coming out just in time for Halloween, giving you something silly, gothic and campy to view in celebration. I know I'll be sharing this movie with all my dirty friends.
Starring: Lee Stone, Roxy Deville, Shawna Lenee, Mick Blue, Gavin Wells, Evan Stone, Whitney Stevens, Trent Soluri, Victoria Sin, Aiden Starr, Voodoo, Jenna Haze and Sammie Rhodes
Studio: Hustler
Director: Anton Slayer
Where It's Available: