Aimee Sweet Cyberskin Pet Pussy
Aimee Sweet Cyberskin Pet Pussy is available to buy here
The Good:
This is an actual mold of Penthouse Pet, Aimee Sweet's cyberskin vagina.It looks like a realistic puffy vagina which is extremely visually stimulating. It holds heat really well, making it feel warm, soft and smushy. This is a real vagina, not like some pussies that just have a front that looks like vagina and then the back is just a sleeve. That's kind of awkward to fuck.
My girlfriend, I have to mention, says another plus is the little try me sampler on the package that you stick your finger in…That's now a mini pussy that also feels real. She loves to keep that on her desk.
The Bad:
There are no ribs on the inside like the Senso Vagina, but it still felt warm, moist and real.
The Bottom Line:
Aimee Sweet Cyberskin Pet Pussy is so far, the best cyberskin pussy I've fucked yet!
How big is it?
3 1/2″ tall, 6″ deep and 12″ around.
Does it come with any extras?
A vibrating bullet (2 AA batteries not included), sample lube and sample Renew cyberskin rejuvenating powder.
Who is this toy for?
This is a fucking toy and a stroking toy.
How would one use it?
Grab your favorite porno and Aimee's pussy, hold on and fuck it.
Does it feel good?
Hell's Yeah and it looks so incredibly fucking real!!!!!
How should I keep it clean?
Clean with a liquid antibacterial soap and water. Rinse it out good. Allow to dry completely, overnight will do, and then apply Renew cyberskin powder to keep its soft, smooth and realistic feel.
Overall Thoughts:
My girlfriend and I decided to have a naughty Christmas this year and only buy each other sex toys and porno's. This was one of my gifts and I was thrilled when I opened it. I had read other reviews of the Aimee Sweet Pet Pussy before and had always wanted to see how true they were.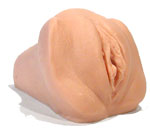 When my girlfriend and I first took it out of the box we were really amazed at how real the texture was. Even the pussy lips felt incredibly realistic. We immediately applied some lube to our fingers and started rubbing Aimee's lips. That was rather arousing in itself, giving me a bit of a 'semi-mongrel'. The pussy is nice and puffy, also giving it that realistic look and feel.
Since we opened our porno gifts at a time when we could play with them, we had a couple of glasses of wine and before I knew it, I was all lubed up and ready to fuck my Penthouse Pet and damn…was she good. I found her to be much more enjoyable than Alexa's Vibrating Pussy. I was really able to prop this one up on the bed and fuck it good, unlike the Alexa one where the sleeve in the back had to be held.
The first time I used it, I didn't use the vibrating bullet and it felt really fucking good. The next time, I used the vibrating bullet and thought that it added a little extra stimulation when I kept it on low. Since men don't need the mega vibrations like some women, low vibrations made it come to life, while the more intense vibrations felt kind of annoying. The only thing is, when you use the vibrator in the other end, you can't fully stroke yourself with it, you can only penetrate it with shallow thrusts, but when I was ready to blow my load, I pulled the bullet out and stroked myself hard!
All in all, the Aimee Sweet Pet Pussy reminded me of a bigger, bulkier Senso Vagina. I could prop it up on the bed, counter, couch and fuck it or I can hold it like a Senso Masturbator and go for it like that. As long as you lube your cock up good, you slide deliciously in and out in what feels like a realistic vagina. And it's a real replica of the gorgeous Penthouse Pet. What could be better?
Where It's Available: