Adventure Sex #4 – Brittany Skye
The Hype
From back cover… Hustler takes you on a coast-to-coast fu*k-filled adventure! It doesn't matter if it's the Alamo or Bourbon Street, these hump hungry travelers wanna screw at every national monument and tourist trap along the way!
Initial Thoughts
I really thought Adventure Sex 4 was going to be lame. I expected scenes to be contrived, especially since a major porn star, Brittany Skye, was being touted on the cover. My bullshit alarm was going off.
What You're In For
The best description of Adventure Sex 4 is an MTV style Road Rules/Real World porn movie. Viewers go on an RV road trip with three guys and 2 girls. Here's the players…Jack's the male star, Woody's one of the cameramen, Dave is the Director. Becca Brat is the female star and Duchess Driver is the RV driver. In this episode they travel from Dallas, TX to New Orleans, LA and do the 'naughty' at several landmarks. They also pick up a couple of hotties along the way…stripper Chloe April and porn star Brittany Skye. The sex is hot, but pretty standard: blow jobs, muff diving, finger fucking, facials, swallowing, lesbian lovin' and intercourse. There's lots of sex on this vid but it's not all sex. There are some interview segments before and after an 'adventure sex' takes place and you do see some of their travels and 'partying'.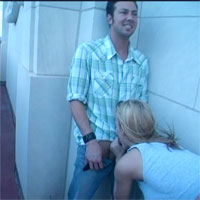 What I Liked
Public sex is a strong fantasy among men and women. Adventure Sex 4 explores that fantasy…real people, having real sex in real public with the fear of getting caught and ultimately getting arrested. There's one scene, where they're trying to have sex outside the Alamo, in which Becca really gets nervous because they're in a really busy area. I didn't feel like this flick was contrived at all. I liked the realism of it. I found the sex in public to be pretty exciting too.
Ultimately, it's a fun flick because the people in it are having fun. Even though the movie doesn't only have sex scenes, I enjoyed the scenes without sex. Watching them party in the bar, pick up a stripper and bring her back to the RV for more drinking and getting so drunk that they break the table in the RV. It's classic college partying and even though I am now quite a ways away from that, I still enjoyed the antics. Watching it from beginning to end, makes the viewer feel like you're going on the road trip too…you all experience it together.
The interview segments were kind of fun. They're similar to the confessionals in other reality shows. Each person comments on what's about to happen or what just happened. It's another layer that added interest.
The editors did a great job too. They have a sense of humor in the way they framed certain scenes. Some of the music used is clever, especially the ride the bronco song in Brittany Skye's scene at the end.
The stars really got down to business in public. It wasn't just quick little blow jobs and intercourse. At each landmark they made sure they got down and dirty and always attempted a full blown sex session. There are some hot close-ups too.
What I Didn't Like
There's not a whole lot to pick out here. My first thought was that the sex is standard, but then again, we're dealing with people trying to have sex in actual public places without getting caught. So I'm thinking that it would be tough to get too crazy. I forgive that because of the situation. Besides there are a couple of scenes in the RV and with Brittany that get a little more involved and those are a lot hotter.
Silly Bit
There are instant replays in slow motion of the cum shots. I found them to be a little silly. I guess that's the one of the things I would've left out. Funny Bit It's not sex but…They're driving to New Orleans and the RV 'shitter,' as they called it, needed to be emptied. So they find a trailer park, pull in and Woody removes the cap and shit sprays all over him. He runs away screaming like a little school girl to a fountain and starts cleaning off. You have to see it for its full effect. It did make me laugh out loud though.
Hottest Scenes
The night scene at the University of Texas Tower was hot. It was dark, people were still on campus, and Becca pulled up her skirt and shirt and let Jack fuck her from behind while she blew Woody. That was pretty hot.
In the RV, Woody was fingering Chloe on the broken table…she was so drunk and so turned on; I had to stick my hand down my panties for that one.
Britanny Skye's scene in the hotel room got hotter the longer it was on and it's a long scene. She blows and bangs Jack alone several times, then gets banged by Jack while blowing Woody, then Jack and Woody switch places. Then Woody fucks her again, then Jack fucks her again. I think her scene was so hot too because they were able to get more out of the scene since they were in the safety of the hotel room. Brittany also had some dirty talk which was greatly appreciated after the other public scenes were a little quieter. That was the scene that I had to finish myself off.
Questionable Bit
They visited the University of Texas Towers where people were shot, killed and injured. While I don't have a problem with them being there, at certain points they added a gunfire sound effect to the footage. I don't offend easily, and I wasn't offended by this, but it was a bit eerie for me. At the end of that segment they, together, explain why they visited the tower and that it's out of no disrespect to those involved. It sounds like they wanted that place to stand for something positive now. I'm okay with the fact that they were screwing around there, but I could've done without the gun shots sound effects.
Extras
There's nothing too exciting to speak of…a slideshow, Hustler movie trailers, VCA trailers, phone sex commercial, Hustler.com promo and Hustler Hollywood commercial.
Overall Thoughts
Adventure Sex #4 was unique for me. I was expecting it to be contrived and lame and it absolutely wasn't. In fact, I didn't fast forwarding through any of the scenes because I found it to be an enjoyable flick. It explored a very popular topic, public sex, in a fun and realistic way…with the tension of being caught and all.
While the sex scenes were standard fare, they were set in a unique environment, real public places which, for me, added an element of excitement. Two of the scenes were hot and the last scene with Brittany Skye brought me to a very orgasmic finish.
I think those that enjoy Real World style shows and Shane's World movies would also enjoy this flick. Also at only $26.95, Adventure Sex #4, is very affordable. I searched for episode 5, but couldn't locate it, so I'm looking forward to it coming out. In the meantime, I need to get episodes 1-3 and see how they compare. I recommend Adventure Sex. It's a fun and hot watch especially for couples or groups to watch together.
I actually watched this movie twice before I posting my review. The first time was with my boyfriend. We had so much fun with it and wound up 'fooling around' during it and having some great sex after it. Then I watched it alone and, even though I had seen it before, I still found it fun and wound up touching myself in the process. I call that a good movie.
Vital Stats:
Starring: Becca Brat, Chloe April, Brittany Skye, Jack Spade, Woody Viking and Dave Road
Studio: Hustler
Director: Dave Road
Running Time: approx. 80 minutes